Dr Jason Scott-Warren, Gonville and Caius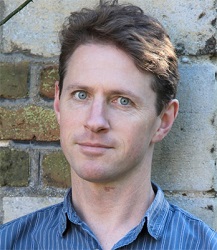 Biographical Information
I studied English at Jesus College, Cambridge, and went on to become a graduate student and a Research Fellow there. From 1998-2004 I was a lecturer at the University of York, where I set up the Centre for Renaissance and Early Modern Studies; in 2004, I was appointed to a lectureship at Cambridge and a Fellowship of Gonville and Caius College. I did my PhD under the supervision of Warren Boutcher on books as gifts at the Elizabethan and Jacobean courts; this formed the basis of my first book. Since then, I have written numerous studies of early modern literature in circulation, as well as broader accounts of the relationship between writing and cultural history; for the latter, see my second book, Early Modern English Literature (2005). My new book on the relationship between reading and material culture, entitled Shakespeare's First Reader: Richard Stonley's Paper Trails is forthcoming from the University of Pennsylvania Press, and am initiating a project on distributions of self in early modern literature (provisionally entitled The Exuvial Renaissance). I'm also co-editing two collections with Andrew Zurcher: the first a collection of essays entitled Text, Food and the Early Modern Reader: Eating Words, the second the Oxford Handbook of Renaissance Poetry.
I am Director of the Cambridge Centre for Material Texts, an initiative aimed at bringing people from across the University together to talk about the embodied forms of the sources they study. In this capacity I am one of the convenors of the 'History of Material Texts' seminar, and I've helped to organize several conferences, including one on the theme of 'Texts and Textiles' and another on 'Eating Words'. More recently, I ran a colloquium in Cambridge on the Academic Book of the Future, as part of the first Academic Book Week, and co-organised a conference on the writings of John Taylor, the Water-Poet. I am currently organising, with Orietta da Rold, a conference entitled Paper-Stuff: Materiality, Technology and Invention.
I'm an editor for the new Oxford Critical Edition of the Works of Thomas Nashe and am on the advisory board for the ARHC-funded York/Cambridge project on 'Remembering the Reformation'. I also sit on the editorial board for the Transactions of the Cambridge Bibliographical Society and the Routledge 'Material Readings in Early Modern Culture' series, and I'm a member of the Cambridge Digital Humanities Network.
Research Interests
Early modern literary and cultural history; history of reading/of the book; textual archaeologies; editing in theory and practice; writing and the self; literature and anthropology; materiality, embodiment, distributed personhood; literatures of London.
Areas of Graduate Supervision
English and European Renaissance literature; early modern cultural history/cultural geography; history of reading; history of the book; early modern textual circulation; anthropological approaches to literature; material texts and material culture; writing and the distributed self. Contributes to the Medieval and Renaissance Literature MPhil.
Selected Publications
Shakespeare's First Reader: Richard Stonley's Paper Trails (forthcoming, 2019)
and Andrew Zurcher, eds, Text, Food and the Early Modern Reader: Eating Words (forthcoming, 2018)
'Ligatures of the Early Modern Book', in Matthew Day and Caroline Archer, eds, Resurrecting the Book, in Book 2.0 7 (2017), 33-44
'Commonplacing and Originality: Reading Francis Meres', in Review of English Studies (2017)
and Dunstan Roberts, eds, library catalogue of Armagill Waad, in Private Libraries in Renaissance England [list is live at http://plre.folger.edu]
'Marginalia as Making: Robert Nicolson's Books', in Katherine Acheson, ed., Early Modern Marginalia (forthcoming, 2017)
'Bookkeeping and Life-Writing Revisited: Accounting for Richard Stonley', Past and Present 230, suppl. 11 (2016), 151-70
'Meet the Chillesters: The Printed Counterfeit in Early Modern London', English Literary Renaissance 46 (2016), 225-52
'How Letters Matter' [review essay], Huntington Library Quarterly 79 (2016), 525-32
'Status Anxiety: Arguing about Plays and Print in Early Modern London', in Tian Yuan Tan, Paul Edmondson and Shih-pe Wang, eds, 1616: Shakespeare and Tang Xianzu's China (London: Bloomsbury Arden, 2015), 135-47
'Centre for Material Texts, Cambridge', The New Bookbinder 34 (2014), 46-50
'Six Ages in Two Volumes', in Ed Potten and Emily Dourish, eds, Emprynted in thys manere: Early Printed Treasures from Cambridge University Library (2014), 110-13
'Nashe's Stuff', in Andrew Hadfield, ed., The Oxford Companion to English Prose, c. 1500-1640 (Oxford: Oxford University Press, 2013), 204-18
'Was Elizabeth I Richard II?: The Authenticity of Lambarde's "Conversation"', in Review of English Studies 64 (2013), 208-30
'What Can We Learn from Early Modern Drama?', Historical Journal 55/2 (2012), 553-62
'Reading on the Threshold', in Subha Mukherji, ed., Thinking on Thresholds: The Poetics of Transitive Spaces (London: Anthem Press, 2011), 57-72
'Unannotating Spenser', in Helen Smith and Louise Wilson, eds, Renaissance Paratexts (Cambridge: Cambridge University Press, 2011), 153-64, 250-4
'Books in the Bedchamber: Religion, Accounting and the Library of Richard Stonley', in John N. King, ed., Tudor Books and Readers (Cambridge: Cambridge University Press, 2010), 232-52
'Reading Graffiti in the Early Modern Book', in Huntington Library Quarterly 73 (2010), 363-81
Early Modern English Literature (Cambridge: Polity Press, 2005)
Tudor Drama Before Shakespeare, multi-author essay collection co-edited with Lloyd Kermode and Martine van Elk (Basingstoke: Palgrave, 2005)
Oxford Dictionary of National Biography, articles on John Harington of Stepney, Sir John Harington and Gabriel Harvey (2004)
'When Theaters Were Bear-Gardens; or, What's at Stake in the Comedy of Humors', Shakespeare Quarterly 54.1 (2003), 63-82
'Harington's Gossip', in Tom Freeman and Susan Doran, eds, The Myth of Elizabeth (Basingstoke: Palgrave Macmillan, 2003), 221-41
Sir John Harington and the Book as Gift, Oxford University Press (2001)
'News, Sociability and Bookbuying in Early Modern England: The Letters of Sir Thomas Cornwallis', The Library, 7th ser., 1 (2000), 377-98
'Reconstructing Manuscript Networks: The Textual Transactions of Sir Stephen Powle', in Alexandra Shepard and Philip Withington, eds, Communities in Early Modern England (Manchester: Manchester University Press, 2000), 18-37
'Sir John Harington's Life of Ariosto and the Textual Economy of the Elizabethan Court', Reformation 3 (1998), 259-301
'The Privy Politics of Sir John Harington's New Discourse of a Stale Subject, Called the Metamorphosis of Ajax', Studies in Philology 93 (1996), 412-42
Book Reviews
Natalie Zemon Davis, The Gift in Sixteenth-Century France, in Renaissance and Reformation/Renaissance et Réforme, 25 (2001), 86-8
H. J. Jackson, Marginalia: Readers Writing in Books, in Cambridge Quarterly 31 (2002), 364-9
David Loewenstein and Janel Mueller, eds, The Cambridge History of Early Modern English Literature, in Times Literary Supplement (December 5, 2003)
Andrew Murphy, Shakespeare in Print, in Times Literary Supplement (August 13, 2004)
Zachary Lesser, Renaissance Drama and the Politics of Publication, in Times Literary Supplement (November 18, 2005)
Julian Yates, Error Misuse Failure: Object Lessons from the English Renaissance, in Modern Philology, 103 (2006), 431-5
David M. Bergeron, Textual Patronage in English Drama, 1570–1640, in Review of English Studies 57 (2006), 807-9
Carol Kaske et al, eds, Edmund Spenser. The Faerie Queene. 5 vols, in Times Literary Supplement (September 5, 2008)
Michael Wyatt, The Italian Encounter with Tudor England: A Cultural Politics of Translation, in Modern Philology 106 (2008), 156-9
Richard Meek, Jane Rickard and Richard Wilson, eds, Shakespeare's Book in Times Literary Supplement (August 14, 2009)
Heather Wolfe, ed., The Trevelyon Miscellany of 1608, in Times Literary Supplement (December 7, 2012)
Peter J. Smith, Between Two Stools: Scatology and its Representations in English Literature, Chaucer to Swift, in Times Literary Supplement (8 February 2013)
The Book of the British Library, in Times Literary Supplement (5 July 2013)
Julia Boffey, Manuscript and Print in London, c. 1475-1530, in Times Literary Supplement (9 August 2013)
Stephen Guy-Bray, Joan Pong Linton, Steve Mentz, eds, The Age of Thomas Nashe: Text, Bodies and Trespasses of Authorship in Early Modern England in Comparative Drama, 48 (2014), 444-6
Paulina Kewes, Ian W. Archer, and Felicity Heal (eds), The Oxford Handbook of Holinshed's Chronicles, in Notes and Queries, 61 (2014), 154-6
Jeffrey Todd Knight, Bound to Read: Compilations, Collections, and the Making of Renaissance Literature, in Shakespeare Quarterly, 65 (2014), 349-351
Matthew Zarnowiecki, Fair Copies: Reproducing the English Lyric from Tottel to Shakespeare, in Times Literary Supplement (26 September 2014)
Alexander Monro, The Paper Trail: An Unexpected History of the World's Greatest Invention; Lothar Müller, White Magic: The Age of Paper; Lisa Gitelman, Paper Knowledge: Toward a Media History of Documents, in Times Literary Supplement (17 April 2015)
Stephen Orgel, The Reader in the Book: A Study of Spaces and Traces, in Review of English Studies, 67 (2016), 794-6