American Literature Research Seminar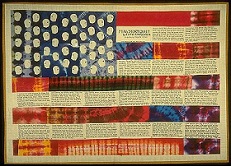 Previous Programmes
Lent Term 2022 27th January - Dr. Patricia Malone (University of Edinburgh); "Reality Hunger: Image and Appetite in the Fiction of the Attention Economy" [Zoom, 16:30-18:00]
10th February - Dr. Janine Bradbury (University of York); "The Revenant Mulatta: Passing in the Post-Civil Rights Era" [Zoom, 16:30-18:00]
24th February -Dr. Michael Kalisch (University of Oxford); "Breaking Into Laughter: Eleanor Clark, Ralph Ellison, and the Midcentury Novel" [In-person, 16:30-18:00]
10th March - MPhil Workshop (TBD Zoom or in-person)
Michaelmas Term 2021
14th October – Introductory session
28th October – Dr. Michael Collins, Kings College London - A Buzzing Imitation of Human Speech: Race, Sound, and H.P. Lovecraft's Anxious Aesthetics
11th November – Dr. Doran Larson, Hamilton College, NY (Zoom) - Inside Knowledge: The Lessons Prisons Teach
25th November – Dr. Maisha L. Wester, University of Sheffield - "You Already Dead": Social Death and White Monstrosity in 21st Century African American Gothic
Easter Term 2021
3 June, 4pm - Joint American and 19th Century Research Seminar
Sharon A. Weltman
Victorians on Broadway: How the Modern Meets the Middlebrow; or, Adapting The Tinted Venus (1885) to the American Musical Stage
Lent Term 2021
28th January Andrew Epstein (Florida State University)
'Sketch of a Man on a Platform': The Modern Feminist Portrait Poem
11th February Riché Richardson (Cornell University)
Birth of a 'Formation' Nation
25th February Adrienne Brown (University of Chicago)
Residential Forms
12th March 4pm - MPhil Dissertation Workshop
Michaelmas Term 2020
29th October Josh Schneiderman (CUNY Hunter College)
'John Ashbery's Republic of Postcards'
12th November Laura Murphy (Sheffield Hallam University)
'The Uses and Abuses of the New Slave Narrative'.
26th November Rachel Sykes (University of Birmingham)
'The Institutional Time of Precarity in Contemporary American Women's Writing'
Lent Term 2020
Thursday 23 January, 16:30-18:00, Room SR 24
Emily Coit, University of Bristol
"Diversity and Discrimination in Henry James's American Scene"
Thursday 6 February, 16:30-18:00, Room SR 24
Mark Storey, University of Warwick
'American Empire, Black Classicism, and the Long Cold War'
Thursday 20 February, 16:30-18:00, Room SR 24
Jimmy Packham, University of Birmingham
'"So human in sound, so devilish in suggestion": Panthers and the Voices of the Frontier in Nineteenth-Century American Gothic'
Thursday 27 February, 17:30-19:00, Room SR 24
MPhil Dissertation Workshop
Michaelmas Term 2019
Thursday 31 October, 16:30-18:00, Room SR 24
Diana Leca, University of Oxford
'American Monostich, from Dickinson to Ashbery'
Thursday 14 November, 16:30-18:00, Room SR 24
Thomas Constantinesco, Université Paris Diderot
'Emerson's Economy of Pain'
Lent Term 2019
Monday 18 February, 16:30-18:00, Room GR 05
Dr. Kyla Wazana Tompkins , Pomona College
'So Moved: Ferment, Jelly, Intoxication, Rot'
Thursday 21 February, 16:30-18:00, Room SR 24
Dr. Merve Emre
Reading for Empathy. Dr. Emre is the author of Paraliterary: The Making of Bad Readers in Postwar America and The Personality Brokers: The Strange History of Myers-Briggs and the Birth of Personality Testing.
Thursday 7 March, 16:30-18:00
MPhil thesis workshops
Michaelmas Term 2018
8 October, Timothy Young - 'What We Talk About When We Talk About Modern Archives'
8 November, Dr Kristen Treen - '"Shorthand and jade cockroaches": Marianne Moore's Poetics of Efficiency'
22 November, Dr Christine Okoth - 'Operational Integration and the Labour of Migrant Fiction'
Lent Term 2018
25 January
Dr Andrew Warnes (University of Leeds)
'Impulse, Accelerated: US literature and the arrival of supermarket self-service'
8 February
MPhil students
American MPhil students will discuss their dissertation projects.
22 February
Dr Kristen Treen (UCL)
Marianne Moore and the index
Michaelmas Term 2017
12 October 4.30-6.00 SR24 (in collaboration with Twentieth Century seminar)
Prof Joy Porter (University of Hull) "The Native American Indian Poet of the First World War: Trauma, Modernity and the Bloomsbury/Garsington Set".
26 October 4.30-6.00 SR24 Prof David Trotter (University of Cambridge), "From Kitty Hawk to Cybernetics: technique and technology in the literature of flight"
29 November 4.30-6.00 G-R05 Prof Joseph Tabbi (University of Illinois, Chicago), title to be announced.
Lent Term 2017
26/01/17 How to Read an Earworm, from Twain to Tarantino - Dr Edward Allen (University of Cambridge)
09/02/17 MPhil Dissertation Workshop
23/02/17 Natural Histories and New World Fictions: Edward Kimber, Edward Bancroft and 18thc narrative form - Dr Kathryn Gray (University of Plymouth)
09/03/17 'Up from the Grassy Roots': Nancy Cunard in America - Dr Sandeep Parmar (University of Liverpool)
Michaelmas Term 2016
13/10/16 On Writing and Editing Short Fiction - Diane Williams (writer, editor of NOON)
03/11/16 Hardboiled Style: Genre, Coping, Complicity - Will Norman (University of Kent)
17/11/16 The Curatorial Novel - Michael Sayeau (University College London)
Michaelmas Term 2015
14 October: Joint seminar with Screen Media Research Seminar. Come-Hither Looks: From Hollywood Vamping to the Digital Facial Image
29 October: Kinship Politics: Jewett, Zitkala-Sa and Literary Clans Nancy Bentley (University of Pennsylvania)
12 November: The ends of Infinite Jest Adam Kelly (University of York)
26 November: The Microeconomic Mode Jane Elliott (Kings College London)
Lent Term 2015
22 January: Wrong Living: The Cinematic Bungalow Dr John David Rhodes (Cambridge)
05 February: American Literature MPhil Students present their dissertation topics
19 February: Benjamin Franklin's London Printing, 1725– 26: New Attributions and Old Puzzles Dr Hazel Wilkinson (Cambridge)
05 March: 'By myself': Ralph Ellison, Magazines, and the 'Preparation' of the 1940s Dr Tessa Roynon (Oxford)
Michaelmas Term 2014
16 October: Reading Group '"A Word dropped careless on a page": Emily Dickinson's Odds and Ends' (Materials accessible at https://www.vle.cam.ac.uk/course/view.php?id=74261)
30 October: Beci Dobbin (UCL) '"I suspect Scott's original Mss. would bring thousands for the spelling alone": Silly Money in Fitzgerald and Hemingway'
13 November: Jason Harding (Durham) 'The CIA, Encounter magazine, and a usable literary past'
27 November: Philip Coleman (TCD) '"voice of a lost soul moving": John Berryman in Clare and beyond'
Lent 2014
23 January:'Americans Going 'Wilde'' - Dr Michèle Mendelssohn (University of Oxford)
30 January: 'What Is (and is not) the Poem? Genetic Editing and Emily Dickinson's Manuscripts'Held jointly with History of Material Texts Graduate Seminar - Prof Cristanne Miller (Buffalo SUNY)
13 February: 'Portrait of the Rabbit as a Young Beau: John Updike, New Yorker Humorist'- Dr. Thomas Karshan (University of East Anglia)
20 February: MPhil Presentations of Dissertation Topics - MPhil students
6 March: Paper: 'Race, Style, and the Soul of Saul Bellow's Prose.' - Dr. Vidyan Ravinthiran (University of Cambridge)
Michaelmas 2013
17 October: Paper: 'Riffing on Catullus: Robert Creeley's Poetics of Adultery' - Prof. Nick Selby (UEA)
31 October: Paper: 'Early American Giant Teeth: Edward Taylor and Cotton Mather' – Dr Amy Morris (Cambridge)
14 November: Paper: 'Unhappy Consciousness and Dark Humour in Modern American Writing: Nathanael West, Thomas Pynchon, Bret Easton Ellis' – Dr Doug Haynes (Sussex)
28 November: Reading Group: The State of the Discipline (Texts TBA)
Reading for the seminars can be found on the English Library CamTools site
Easter Term 2013
9 May: Hannah Sullivan: Paper: Revising Modernism
23 May: Reading Group
6 June: Film Group: The Afterlives of Lincoln
Lent Term 2013
24 Jan: Reading Group: Walter Benjamin and American Literature
7 Feb: Dr Follini and Prof. Poole: Conversation: Editing The Cambridge Edition of the Complete Fiction of Henry James
21 Feb: Dr Farebrother (Response by Dr Meer): Paper: 'The Harlem Renaissance' and response
Michaelmas Term 2012
11 Oct: Paper: Dr Kasia Boddy (Cambridge): 'Response is Good: David Foster Wallace's Girl with Curious Hair in Context'
25 Oct: Reading Group: Joan Didion's Blue Nights
15 Nov: Paper: Prof Robert Cook (Sussex): 'Ordeal of the Union: Allan Nevins, the Civil War Centennial, and the Civil Rights Struggle of the 1960s'. With a response by Dr Becca Weir
Lent Term 2012
19 Jan: American Mphils present their dissertation topics (1).
2 Feb: American Mphils present their dissertation topics (2).

16 Feb:  Paper, Dr. Fiona Green (Cambridge) TBA.
23 Feb: Paper, Dr. Michael Snediker (Queen's University, Ontario)
1st Mar: Paper, Dr. Nigel Bowles (Oxford) TBA.
Michaelmas Term 2011
6 Oct: Introduced Discussion/Reading Group: Patrick Kingsley (The Guardian) and Merlin Sheldrake (Cambridge), 'Walking and Eco-Criticism'. Texts: Henry David Thoreau, 'Walking' (1861) and Lawrence Buell, 'Toxic Discourse' (1998). There will be a social for Americanists after the seminar.
20 Oct: Introduced Discussion/Reading Group: Dr Becca Weir (Cambridge), 'Hospital Sketches: Mitchell, Whitman and Alcott'. Texts: Silas Weir Mitchell, 'The Case of George Dedlow' (1866), Walt Whitman, 'Great Army of the Sick' (1863), Louisa May Alcott, 'A Day' (1863).
3 Nov: Reading Group: David Foster Wallace, 'Authority and American Usage' (2005) and Maud Newton, 'Another Thing to Sort of Pin on David Foster Wallace' (2011).
17 Nov: Paper: Justin Katko (Cambridge), 'The Love Songs of Edward Dorn'
Easter Term 2011
Saturday 28 May, English Faculty, 9 West Road, Cambridge
How are myths appropriated, perpetuated and discarded in relation to creating an abstract sense of nationality, or an American-ness? How has the search for a national epic limited or liberated writers? What currency have old, borrowed and imported myths had in the New World? These are some of the questions we'll be asking at this year's graduate symposium. Our plenary speakers include Kasia Boddy of UCL and Andrew Warnes of Leeds University, and with them, we look forward to a diverse and probing symposium, in which MPhil and PhD students will have a chance to present their work.
All are welcome. For more information, please contact Edward Allen or Vidya Ravi (americansymposium2011@gmail.com).
Lent Term, 2011
20 Jan: MPhil students present their dissertation topics (1)
3 Feb: MPhil students present their dissertation topics (2)
10 Feb: Prof Shira Wolosky (Hebrew University, Jerusalem) will give a paper on American lyric
3 Mar: Dr Sue Currell (University of Sussex) will give a paper on the New Masses. Time and venue tbc.
To join the mailing list for this seminar please email Anna Fox af285@cam.ac.uk
Michaelmas Term 2010
21 October: Dr Beci Dobbin (Cambridge) on Cartoons in Nabokov.
4 November: Dr John Beck (Newcastle Upon Tyne) on War.
18 November: Dr Sue Currell (Sussex) on the New Masses magazine. NB: this joint session with the History Faculty starts at 5.00pm. POSTPONED UNTIL NEXT TERM.
2 December: Reading Group: Adam Langer 'The Thieves of Mahattan' 2010
Easter Term 2010
The seminars this term will be replaced by a Summer Symposium on 22 May. This will feature papers from students and visiting speaker-respondents. The theme will be 'Performance'. Enquiries should be directed to Tom Wright, Peter Riley, or Ellie Stedall.
Lent Term 2010
14 Jan Shelley Fisher Fishkin (Stanford): "Man is the Only Animal That Blushes - or Needs to": Mark Twain and Animal Welfare
28 Jan MPhil students present their dissertation topics (1)
11 Feb MPhil students present their dissertation topics (2)
25 Feb Daniel Kane (University of Sussex): Richard Hell, Genesis: Grasp, and the move from Poetry to Punk
1 Mar Alan Rice (University of Central Lancashire): title to be confirmed
Michalemas Term 2009
Friday, 9 Oct, Participants should attend the Susan Howe/David Grubbs performance, 7.30 pm in the Judith E Wilson Drama Studio
Thursday, 22 Oct, 5 pm: Latimer Room, Clare College: Prof Helen Taylor (University of Exeter): Joint English / History Research Seminar, title tba
Thursday, 19 Nov, 4.30 pm, English S-R 24: Reading group: the seminar will
discuss Cormac McCarthy, *The Road* (2006)
Thursday, 3 Dec, 4.30 pm, English S-R 24: Fionnghuala Sweeney (UCD) will give a paper on Caribbean / American writing
Easter Term 2009
23 Apr Poetry and archives: Sharon McCann on Charles Reznikoff; Claire Lockwood on Marianne Moore
7 May tba
Lent Term 2009
29 Jan MPhil students present their dissertation topics
12 Feb MPhil students present their dissertation topics
26 Feb Dr Hamilton Carroll (University of Leeds), Representations of September 11 in American Fiction
12 Mar Dr Linda Freedman (Selwyn), William Blake in America
Michaelmas Term 2008

23 Oct Introductions, catching up, conference and archive reports
6 Nov Rebekah Scott on Henry James
13 Nov Prof David Blight (Yale University), 'Slave Narratives as History and Literature, Before and After the Civil War'. Joint session with History Faculty, 5.00, Latimer Room, Clare College
27 Nov Michele Gemelos, British Writing about New York
Lent Term 2008
24 Jan MPhil students will give presentations on their dissertation topics
14 Feb Dr Will Kaufman (Central Lancaster): 'Woody Guthrie: Hard Times and Hard Travellin'. This is an hour-long musical programme that sets the songs of Woody Guthrie in the context of the American 1930s: the Dust Bowl, the Depression, the New Deal and the state of popular music itself. Please note venue: Drama Studio
28 Feb Hazel Hutchinson (Aberdeen): Death and the Matron: Mary Borden and the Uses of American Writing from the Western Front, 1914-1918
13 Mar Becca Weir (Cambridge): American Civil War Drama

Michaelmas Term 2007
18 Oct Catchup and conferences. A chance for new Americanists to meet other researchers in Cambridge, plus brief reports on recent conferences, summer schools etc.
29 Oct Joint American History/Literature Seminar: Professor Sharon Monteith (University of Nottingham) will speak on the Thomas Jefferson and Sally Hemings controversy in the visual arts. Clare College, Latimer Room, 5pm
15 Nov Graduate Students' Programme (details tba)
29 Nov Dr Kirstie Blair (Glasgow University), will speak on Longfellow and nineteenth-century poetry
Lent Term 2007
1 Feb
: M. Phil. students present their dissertation topics 15 Feb: M. Phil. students present their dissertation topics
1 Mar
: Prof. Peter Nicholls (University of Sussex) will give a paper on George Oppen
8 March: Prof. Sharon Monteith (University of Nottingham) will give a paper to this joint session with the history faculty, on American Culture in the 1960s
Michaelmas Term 2006
Thur 5 Oct: Introductory Discussion: 'Terms':
This session is designed to introduce newcomers to each other and to some Americanist students, postdocs, and staff. A few of us will introduce a term or concept that has recently emerged as particularly resonant in our research, and bring a number of examples/passages of it at work, to invite general discussion. Terms to be introduced include 'confidence', 'front/frontline', 'Local/Localization', 'Avant-garde', 'Freedom', 'Quadroon/Octoroon'. We may also think about the place of such examination of vocabulary in Raymond Williams' Keywords and in the historical methodology Begriffsgeschichte.
Thur 26 Oct (now in GR 04, English Faculty): American History/Literature Joint session:
Discussion of Strange Fruit with the new Mellon Research Fellow in American History, Dr Andrea Franzius– Billie Holiday's and other recordings, and extracts from David Margolick and Hilton Als, Strange Fruit: the Biography of a Song and Angela Davis, Blues Legacies and Black Feminism: Gertrude "Ma" Rainey, Bessie Smith and Billie Holiday. Dr Franzius suggests that useful additional material to consult would be Langston Hughes's "Lynching Song." Allen Gussow's Seems Like Murder Here: Southern Violence and the Blues Tradition (an interesting collection of essays including an excellent one on W. C. Handy), and of course Houston Baker's work, e.g. his classic Blues, Ideology, and Afro-American Literature: a Vernacular Theory. An important collection of lynching photography and its commodification can be found in Allen James's Without Sanctuary: Lynching Photography in America.
Thur 2 November: short papers from local Americanists:
Eric White on William Carlos Williams' Prose and Jerome Martin on Audubon's 'Sketches of Frontier Life' and Whitman's 'Leaves of Grass'.
Thur 16 November: Dr Cynthia Hamilton ( Manchester Metropolitan University, and Rothermere Institute, Oxford) will speak on 'Sara Paretsky and the Politics of Detective Fiction'
Easter Term 2006
27 April 5pm English Faculty SR-24
Dr Paul Giles (Rothermere Institute, Reader in American Literature and Director of the Rothermere American Institute, Oxford University): 'The Deterritorialization of American Literature'. Chair: Rachel Malkin
11 May 5pm English Faculty GR-05
Film showing: ' Paris, Texas' (1984), dir. Wim Wenders, followed by discussion.
Lent Term 2006
19 January 5pm - English Faculty Board Room
M.Phil. presentations: James Harding, Victoria Kingham, Matthew Langione, Ryan Rippel
2 February 5pm – English Faculty SR-24
M.Phil. presentations: Sarah Savitt, Rebecca Weir, Tom Wright, Adam Vander Tuig
3 February 5pm - English Faculty SR-24
Dr Nicole King (University of California, San Diego): 'Fictions of Identity: Corporeality, 'Race,' and Family in Caribbean/American Literature.' Chair: Sarah Meer, Faculty of English
March 5pm - English Faculty GR-04
American History/American Literature joint seminar: 'Wisconsin Death Trip': Evidence, Text and Representation.
Film showing: 'Wisconsin Death Trip', dir. James Marsh, followed by discussion.
Michaelmas Term 2005
6 October 5pm - English Faculty SR-24
Graduate presentations: Matthew Peters, 'The French Origins of Henry James's Literary Criticism'; and Brendan Cooper, 'Fifties America, the "Religious Revival" and John Berryman's "Homage to Mistress Bradstreet"'. Chair: Sarah Cain, Faculty of English
20 October 5pm English Faculty SR-24
Dr. Keston Sutherland ( Sussex): 'Unreality Testing in Contemporary U.S. Poetry'. Chair: Brendan Cooper
3 November 5pm English Faculty GR-04
Film showing: 'Dog Star Man', dir. Stan Brakhage, followed by discussion. Chair: Sam Ladkin
17 November 5pm English Faculty SR-24
Dr Peter Rawlings ( Bristol UWE): 'James, Trilling, and Booth as American Theorists of the Novel.' Chair: Matthew Peters
Easter Term 2005
28 April 5pm: Board Room, English Faculty
Eric White "'The Locality is the Only Universal': William Carlos Williams, Contact, and American Avant-Garde Poetry, 1920-23"
Rachel Malkin "An Ordinary Evening in New Jersey..." (on Roth, Auster & Cavell)
12 May 5pm: G-R 06 English Faculty
Film: "The Big Sleep", wine and pizza to follow
Lent Term 2005
20 Jan 5pm English Faculty
MPhil Presentations: D Golann, R Carroll, R Haw, R Palmer
3 Feb 5pm English Faculty
MPhil Presentations: L Penn, A Rix, R Scott, E Stapely
17 Feb 5pm English Faculty
Dr Tim Lustig (Keele University) on Edith Wharton and culture&lt
3 Mar 5pm English Faculty
Professor David Shields (University of South Carolina), "'I am not playing queen': Abigail Adams and the Republican Court"
Michaelmas Term 2004
14th October 5pm: English Faculty, G-R 06:
Professor Patricia Yaeger, University of Michigan. 'Dematerializing Culture: Modernism's Trash Aesthetic' (on Faulkner, visual art, film)
21 October 5pm: Selwyn College Tower Room:
Dr Amy Morris, Fitzwilliam College, 'Colonial Tensions in the Early New England Religious Lyric'
4 November 5pm: Selwyn College Tower Room:
Graduate Session.
18 November 5pm: English Faculty G-R 05:
Dr Shamoon Zamir, King's College London (on Edward Curtis and the American Indian)