Notes for an exhibition in the English Faculty Building, first floor, 17 January – 17 February, 2017
Dropping his history books,
a young man, lined against the horizon
like an exclamation point with nothing to assert,
stumbles into the dance.
– "Death as History" by Jay Wright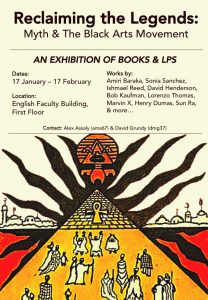 RECLAIMING THE LEGENDS: MYTH & THE BLACK ARTS MOVEMENT finds inspiration in the anti-historical world described by Wright. Its mysterious dance is the "cabinet of curiosities": the defiance of categorical boundaries, the assembling of varied objects, the powerfully mythic rather than the historical, the rhythmic rather than the calculated. The exhibition also "plead[s]" like Wright's dance. It asks visitors to abandon traditional epistemologies and participate in the microcosm it has created. This exhibition-world is a miscellany of anthropological & egyptological studies, revisionist histories, spiritualist & esoteric writings, books of poetry, and music record. It intimates some organizational principle, but finds time operating synchronically. Traditional chronology, here, is corrupted: Amiri Baraka, Sonia Sanchez, Lorenzo Thomas, Bob Kaufman, Ishmael Reed, David Henderson, and Marvin X appear alongside Gerald Massey, George James, and Theodore P. Ford. Like Wright's dance, its form is ritualized and its theme is mythical.
Although the exhibition looks above and beyond "history" ("visionary-wise"), it is from there where we begin. The symbolic birth of BAM occurred in the spring of 1965. Not long after the assassination of Malcom X, LeRoi Jones [Amiri Baraka] (1934-2014) moved from Manhattan's Lower East Side to Harlem, where he, Larry Neal and others co-organised the Black Arts Repertory Theater / School. BAM (its artists, journals, and institutions) would soon spread across a number of major American cities—Detroit, Chicago, Washington D.C., San Francisco, and New York—; however, under repressive government measures like COINTELPRO, President Nixon's strategy of pushing Black Capitalism as a response to Black Power, and an ideological shift towards Marxism, BAM began to decline by around 1974.
Although BAM was largely a decentralized movement, its artists and thinkers did have a common political foundation: nationalism. James Edward Smethurst writes, "the common thread between nearly all the groups was a belief that African Americans were a people, a nation, entitled to (needing, really) self-determination of its own destiny" (15). BAM's socio-political concerns bespeak of the radical significance of their historical moment. Yet, perhaps unexpectedly, "history" (as such) did not figure in the poetry and drama of BAM. In fact, many of BAM's thinkers equated history, as Wright states, with "death." History was the story and culture propounded by the tyrannical power of the white-West. BAM and Black Power politics wanted to change or, better, to drop "history" altogether. Neal writes, "the cultural values inherent in western history must either be radicalized or destroyed." What was needed, Neal continues, was "a whole new system of ideas": a system that would be alternative, black, and "mythic."
The poetry and drama of BAM often served to build this alternative myth-world. In BAM's literature, allusions to Akhenaten, Moses, Zipporah, warriors, gods, spirits, and orishas appear with more frequency than figures of recent history (Patrice Lumumba and Malcom X included). Symbols like the ankh or Egyptian hieroglyphs can often be seen integrated in artworks or poems. Ancient Egypt and Ethiopia regularly appear as the settings of a prosperous black past, now suppressed by white historians. If "history" distorted and oppressed, "myth" empowered. For BAM, this mythic past was also as an image of the future. Time, in the alter-world, functioned synchronically: its occupants could freely move backwards (to the glory she/he once was) or forwards (to the glory she/he will be). In infinity, as Sun Ra states "it doesn't matter which way you go"—you will find free and everlasting life in all directions.
RECLAIMING THE LEGENDS: MYTH & THE BLACK ARTS MOVEMENT is a journey through the synchronic alter-world of BAM. The first display case (THE PAST MADE PRESENT) decides to position itself in the past. On the far left of the display case lie two books: Gerald Massey's The Light of the World (1907) [1] and George James's Stolen Legacy: Greek Philosophy is Stolen Egyptian Philosophy (1954) [2]. Both Massey and James's texts reconsider the accepted history of Western tradition, concluding that a number of its philosophical and religious ideas have ancient Egyptian origins. As Massey and James's texts assert the cultural influence of Africa, the three works in the middle of the display case encourage their readers to use this African knowledge as a means of selfempowerment. Theodore P. Ford's God Wills the Negro (1939) [3] ends with the call to find strength in "the accumulated folk-wisdom and social experience of a hundred centuries of civilization." Amiri Baraka, in his interview with Austin Clarke, [4] makes a similar gesture when he encourages the "black man" to repossess his ancient "lifeforce"— the force that made Egypt, Ghana, Timbuktu—and flourish as he used to. In "The Bathers" (1981) [5], Lorenzo Thomas aims to describe this life-force at work. Set in the 1963 Birmingham Civil Rights demonstrations, a young boy, hit by a high-pressure hose, "[transforms] into a lion" whose powerful "tail is vau the symbol of love."
The most influential example of ancient myth being used as a means of self-empowerment occurs in jazz music. On the video monitor beside the first display case, the visitor can watch musical performances by Pharoah Sanders, Cecil Taylor, Archie Shepp, Albert Ayler, Sun Ra, and The Art Ensemble of Chicago as well as readings by Amiri Baraka, Nikki Giovanni, and Askia Touré. Many of the performances find their energy in ritual-like percussion or rhythmic phrasing, dance, and costume. Turning back to the first display case, the visitor sees three objects of a similar theme. Henry Dumas's "Will the Circle Be Unbroken?" (1974) [6] tells the story of an ancient horn so powerful that it kills a group of uninitiated white listeners. In "East Fifth Street (NY)" (1965) [7], Bob Kaufman describes jazz as having the capacity to cause "time" to "[cry] out" from "the skin of an African drum." At the very end of the first display case is Sun Ra & Henry Dumas's The Ark and the Ankh (1966) [8]. During the course of their interview, Ra describes music as a bridge to a world beyond death, destruction, and time.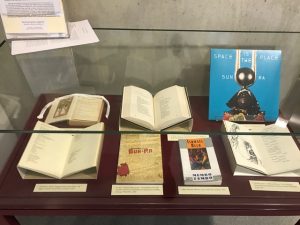 Following Ra, the exhibition's second display case ( LOOKING AHEAD, VISIONARYWISE) positions itself in the future. On the left hand side of the display case, the visitor sees three texts that explore the theme of death bringing about new life. E.A. Wallis Budge's translation of The Book of the Dead [1] contains a series of "magic spells" with the capacity to determine the afterlife of the deceased. In "Egyptian Book of the Dead" (1970) [2], David Henderson uses metaphors like magic spells to transform a deceased New York City into an Edenic ancient Egypt. In his ode to the legacy of Malcolm X (1968) [3], Marvin X turns Malcolm's assassination into something affirmative, bringing with it strength, hope, blackness, and black power. While death brings about new life, myth and magic provide models of what that new life may look like. Reed's "Neo-HooDoo" mixture of fact and fiction, history and myth, in Mumbo Jumbo (1972) [4] provides the reader with an aesthetic and cultural model antithetical to the West's. In "The True Way to Life" (2006) [5], Sun Ra uses intuitive logic to reinterpret history, decode biblical scripture, and reveal the secret path to everlasting life. In Four Black Revolutionary Plays (1968) [6], Amiri Baraka provides examples of how sensationalism, surrealist symbolism, and mythology can be placed in the service of political protest.
The exhibition ends with two explorations of what may be called the future-present. In "to Morani/Mungu" (1971) [7], Sonia Sanchez puts "peace" in the hands of a loving mother and has her assert that it is in the present that African Americans—particularly children—can actualize their dreams. Lastly, Space is the Place (1972) [8], is a musical exploration of Sun Ra's space world. After journeying through cacophonous horns, offkilter piano, and energetic percussion, the album ends with the electronic beeps and bops of Ra's spaceship taking off for another voyage.
Please find two informative PDFs below. One is an extensive description of the exhibition and the objects on display and the second is a short handout visitors can pick up at the exhibition:
Reclaiming the Legends [Short]