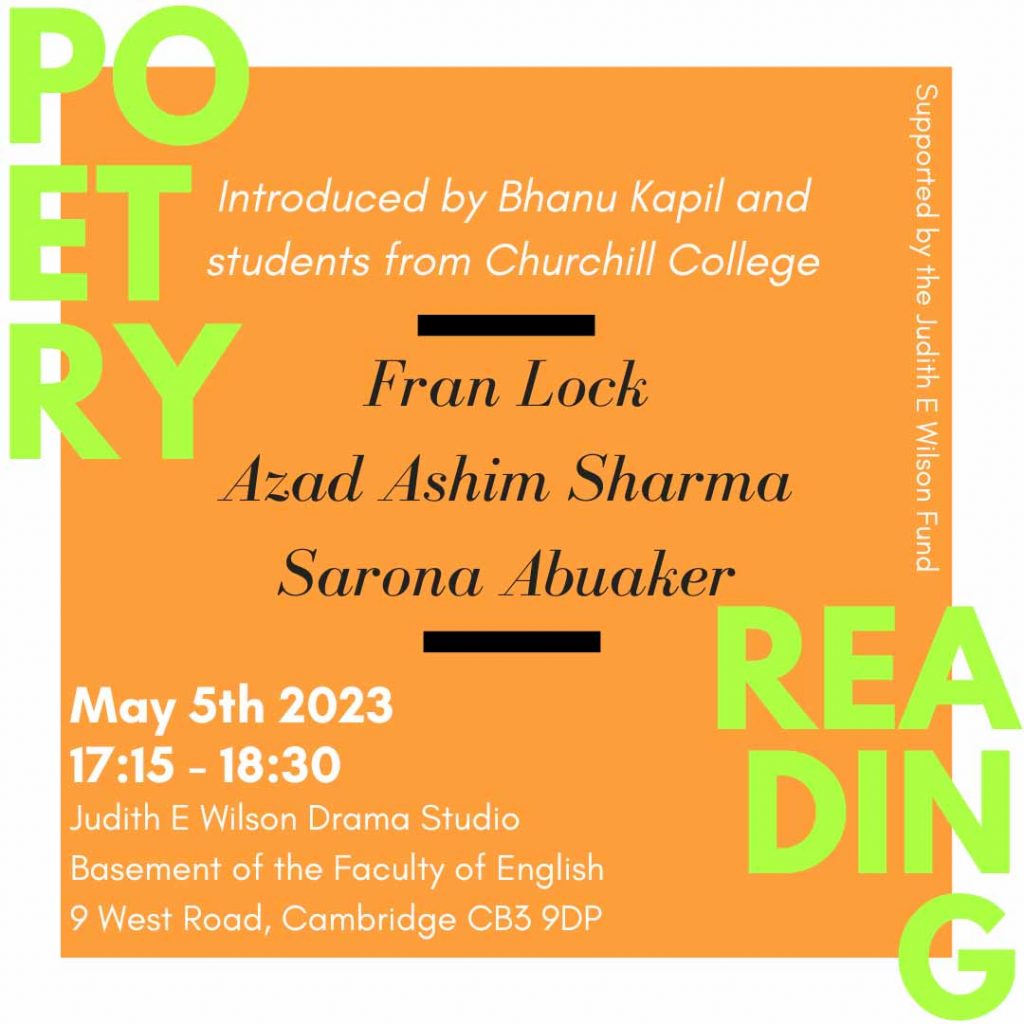 Bhanu Kapil (Churchill Fellow) in collaboration with Churchill College students will be introducing three writers published by the87 Press,
a radical publishing collective in South London.
Fran Lock is the author of numerous chapbooks and ten poetry collections. Her most recent chapbook is Forever Alive (Dare-Gale Press, 2022), and her most recent collections are Hyena! (Poetry Bus Press, 2021), Hyena! Jackal! Dog! (Pamenar Press, 2021) and White/ Other (87 Press, 2022). Fran is the current Judith E. Wilson Poetry Fellow at Cambridge University. She is an Associate Editor at Culture Matters, and member of the new Editorial Advisory Board for the Journal of British and Irish Innovative Poetry. She is a proud pit bull parent, and she edits the Soul Food column for Communist Review.
Sarona Abuaker has been published in Berfrois, MAP Magazine, the 87press' Digital Poetics series, KOHL, Ludd Gang, Senna Hoy.  Her debut poetry collection, Why so few women on the street at night, published by the 87Press, is a queer phenomenology of collective Palestinian futurisms and memory building.
Azad Ashim Sharma is the director of the87press and the author of Against the Frame, Ergastulum, and the forthcoming Boiled Owls. He was awarded The Nicolás Cristóbal Guillén Batista Outstanding Book Award 2023 by the Caribbean Philosophical Association. He is currently a PhD Candidate in English and Humanities at Birkbeck College.
The event is free.  All are welcome.
Please do not attend this event if you are experiencing any cold-like symptoms.
Although the Faculty of English building has step-free access, please be aware that the Judith E Wilson Drama Studio is located in the basement of the building.  It is accessible via the Faculty lift or via a stairwell.
This event has been made possible with the support of a Judith E Wilson Fund Small Grants Award.