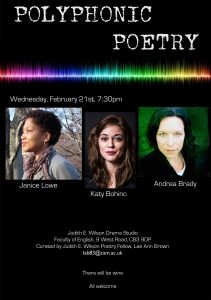 Come hear these stellar poets perform at the Judith E. Wilson Drama Studio at Cambridge University, Faculty of English, 9 West Road, Cambridge, UK!
KATY BOHINC is a poet and data scientist; an avant-garde publisher and a professional marketer; an activist, an astrologer and an innovator. She has three books of poetry: TRINITY STAR TRINITY (Scarlet Imprint, 2017), Dear Alain (Tender Buttons Press, 2014), and forthcoming, Scorpio (Miami University Press, 2018). Since 2013, she has collaborated on Tender Buttons Press which publishes experimental women's poetry. She is Head of Data and Innovation at Inspira Marketing Group and co-runs The Ratio, a project to apply data science to astrology data. For more see: http://www.katybohinc.com/
ANDREA BRADY was born in Philadelphia and studied at Columbia University in New York City. After working in publishing for a few years she came to the UK to study in Cambridge. She is a poet who works closely with contemporary poets in the UK and abroad. Brady has performed throughout the UK, Europe, Canada, the US and Lebanon, and has been invited to speak about poetry by the British Council, the BBC, the Arts Council, and the Poetry Society. Her work has been translated into French, German, Spanish, Slovene, Slovak, Finnish, Greek, Catalan, and Croatian, and has been the subject of a large number of critical essays. She lives in Hackney with her partner and three small children and teaches at Queen Mary University of London where she curated the Globe Poetry Festival in 2015.
JANICE A. LOWE is a composer, poet and performer of music text hybrids. She is the author of LEAVING CLE poems of nomadic dispersal (Miami University Press) and the chapbook SWAM, a short play (Belladonna Series). Her poems have been published in Callaloo, Best American Experimental Writing 2016, The Poetry Project Online, Pre) Conceivable Bridges, American Poetry Review, Resist Much/Obey Little, Radiant Re-Sisters, The Hat and on a digital album with Drew Gardner's Poetics Orchestra. She participated in the Renga for Obama project, The Broadside Series at Center for Book Arts, Words and Music at Word Up Bookshop and as a writer-in-residence with Melted Away's American Dream installation at Transformer Station, Cleveland. She composed the opera Dusky Alice as well as the musical Lil Budda (text by Stephanie L. Jones) which was presented at the Eugene O'Neill Musical Theater Conference and in the National Alliance for Musical Theater Festival of New Works. She is a co-founder of both The Dark Room Collective and absolute theater co. As a pianist-vocalist, she records and performs with her band Janice Lowe & NAMAROON.
rsvp https://www.facebook.com/events/116734052414652/
Curated by Lee Ann Brown, thanks to the Judith E. Wilson Fund for Poetry and Drama, Cambridge University.