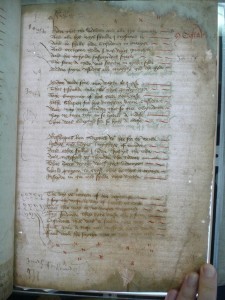 The BBC reports on the work of the Mapping Paper in Medieval England project.  The project team, led by Dr Da Rold,  has as its aim to prepare a new dataset of Medieval Paper Manuscripts written in England between 1300 and about 1500.
Funded by the Cambridge Humanities Research Grants Scheme, and building on data already gathered by Dr Da Rold, between February and September 2015 the Cambridge University team assembled evidence from 5841 manuscripts of which at least 736 are written on paper.
It is hoped that this work will eventually help explain how and why paper arrived later in the UK than elsewhere in Europe.