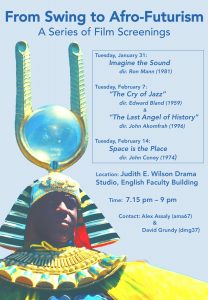 Venue: Judith E. Wilson Drama Studio, English Faculty Building
Dates: Tuesday, 31 January; Tuesday, 7 February; Tuesday, 14 February
Time: 7.15 pm – 9 pm
From Swing to Afro-Futurism: A Series of Film Screenings is a succession of events that supplement the exhibition Reclaiming the Legends: Myth & The Black Arts Movement (currently showing in the first-floor exhibition space,  English Faculty Building). The three film screenings aim to not only clarify the status of jazz music in the 1960s and 1970s, but to help contextualize the literary pursuits of the Black Arts Movement.
The first screening is of Ron Mann's Imagine the Sound (1981). The film profiles four jazz musicians—Archie Shepp (saxophone), Cecil Taylor (piano), Bill Dixon (trumpet), and Paul Bley (piano)—and contains incredible performance footage of all four.
The second screening is of two short films. The Cry of Jazz (1959) is an important documentary directed by Edward Bland. The film makes a strong case for the structural identity between black life in America and jazz music. It also traces the history of jazz and includes performances by a young Sun Ra & his Arkestra. In The Last Angel of History (1996), John Akomfrah explores the literary and cultural aesthetic known as Afro-Futurism.
The third screening is of John Coney's Space is the Place (1974). Space is the Place is a afro-futurist, blaxploitation film featuring Sun Ra: a music-messenger and prophet from outerspace. After landing his spaceship in Oakland, Sun Ra spreads his word of an "alter-destiny" in outerspace to the black youth of the area. The movie also contains an incredible live performance by the Arkestra.
All films may contain strong language. Space is the Place contains nudity.
For more information, contact Alex M. Assaly, ama67@cam.ac.uk