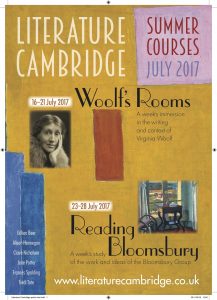 Trudi Tate has organised two intensive summer courses in July 2017.
Woolf's Rooms runs from 17-21 July, and Reading Bloomsbury runs from 24-28 July. The courses offer a week's immersion in their subject, with lectures, supervisions, excursions and communal meals. Participants come from all over the world and share a student experience in Homerton College.
English Faculty members teaching on the course include Alison Hennegan, Trudi Tate, Steve Watts, Clare Walker Gore, Nadine Tschacksch, Aoife Byrne, Sinead Garrigan Mattar, and Gillian Beer; as well as Frances Spalding, Susan Sellers, Peter Jones, and others.
This year participants come from Brazil, Canada, Australia, US, Denmark, France, Germany, Holland, Belgium, Sweden, UK, Japan, Turkey, Hong Kong, and the Dominican Republic.