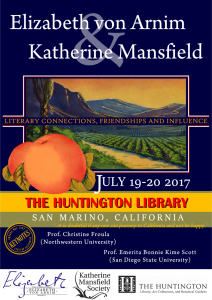 The 2017 Elizabeth von Arnim and Katherine Mansfield – Literary Connections, Friendships and Influence conference will be held 19-20 July 2017 at the Huntington Library in California.
The first joint venture of the Katherine Mansfield Society and the International Elizabeth von Arnim Society (current president, Dr Isobel Maddison), the conference seeks to explore the literary connections, friendships and influences that shaped Mansfield and von Arnim's work.
A Special Double Issue on the writing of Elizabeth von Arnim titled 'Re-evaluating Elizabeth von Arnim' will be launched at the conference. This is edited by Isobel Maddison plus Juliane Romhild and Jennifer Walker (all contributing articles to the journal as well). It will be published on 28 June by Women: A Cultural Review.
Registration will be available in person at the conference.
http://elizabethvonarnimsociety.org/