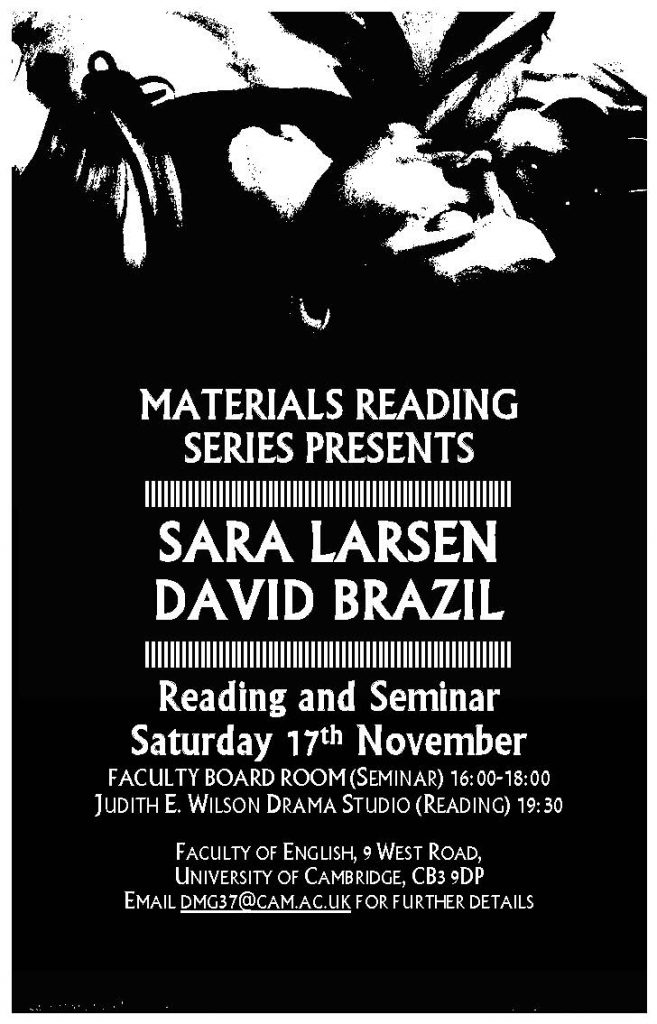 The materials Reading and Seminar series is hugely excited to present Sara Larsen and David Brazil, on a special visit from Oakland, CA, stopping over at Cambridge, UK. Poets and scholars of Hebrew, Greek, Aramaic, the Pauline tradition, Sappho, Christian communism, the Paris Commune, the Trojan war, riot grrrl, and more; co-editors of the legendary little magazine Try!; heavily involved in the Occupy movement; and leading contemporary poets, their work challenges traditional pedagogical models and helps to imagine and enact counter-institutions, a praxis of radical education that manifests in such initiatives as the Oakland Free University and the Bay Area Public School. Larsen and Brazil will give a seminar in the afternoon and a reading in the evening – we're lucky to have them with us!
[16:00-18:00] Seminar, Faculty Board Room
Sara Larsen – History happening in Merry Hell – Paris Commune, Occupy Oakland, & the "counter-epic"
In MERRY HELL, Helen of Troy exposes the "misogynist spell" of the traditional (patriarchal) narrative that condemns her for the horrors of the Trojan War and insists "LET ME TELL YOU ALL THE TRUTH OF WHAT HAS HAPPENED TO ME". As it happened, Helen is neither abducted by nor runs off in love with Paris, but rejects Empire and leaves Sparta of her own volition. Helen's story, a heroine's journey, is interwoven with circumstances surrounding the Pétroleuse, or women incendiaries, of the 1871 Paris Commune as well as those of Occupy Oakland.
We'll discuss what's up with the interweaving of time periods in Merry Hell, delve into the history of the Paris Commune (and why it's important today), talk about some of Sara's experiences at Occupy Oakland that show up in the book, as well as the process and thinking behind writing a feminist "counter-epic".
David Brazil – "Samson Agonistes, Is It?": Reading Hopkins Reading Milton Reading Horace Reading Pindar
What are the origins of free verse in English?  How are its roots predicated on a productive misreading of the Greek classics and the Hebrew prophets?  Why does Milton fulminate against the "modern bondage of rhyming"?  When Hopkins wrote to Dixon on 6 October 1878, what was he on about?  Where on earth did 'sprung rhythm' even come from?  Who can say the difference between liberty and license?
[19:30] Poetry Reading, Judith E Wilson Drama Studio
Sara Larsen is the author of The Riot Grrrl Thing (forthcoming from Roof Books, 2019) Merry Hell (Atelos, 2016), and All Revolutions Will Be Fabulous (Printing Press, 2014). She is also the author of several chapbooks including Riot Cops En Route To Troy and The Hallucinated, among others. With David Brazil, she edited over sixty issues of the literary zine TRY! from 2008 to 2011. She lives in the Bay Area. Her work is featured in Lyn Hejinian's essay "The Sneeze: Oversignification, Protest, Poetry".
David Brazil is a pastor and translator.  His most recent book is Holy Ghost (City Lights, 2017).  He lives in Oakland, California. He co-edited Revolution: A Reader with Lisa Robertson and The Kenning Anthology of Poets Theater with Kevin Killian.
(Email David Grundy, dmg37@cam.ac.uk for further details)