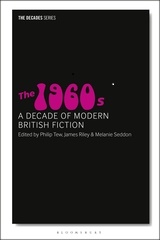 Co-edited with Philip Tew and Melanie Seddon and published by Bloomsbury, The 1960s is the latest in the highly regarded 'Decades' series, an ongoing set of volumes focusing on each decade of the twentieth century.
The 1960s were the "swinging decade": a newly energised youth culture went hand-in-hand with new technologies, expanding educational opportunities, new social attitudes and profound political differences between the generations. This volume explores the ways in which these apparently seismic changes were reflected in British fiction of the decade. Chapters by leading scholars including Yvonne Salmon, Joseph Darlington and Tracey Hargreaves cover such topics as feminist writing; gay, lesbian and immigrant voices as well as the work of visionary experimental and science fiction writers.
As a whole the volume offers major critical re-evaluation of the decade via reference to the likes of J.G. Ballard, Anthony Burgess, A.S. Byatt, Angela Carter, John Fowles, Christopher Isherwood, Doris Lessing, Michael Moorcock and V.S. Naipaul.
For further information see: https://www.bloomsbury.com/uk/the-1960s-9781350011700/