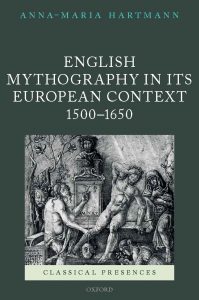 Anna-Maria Hartmann, Lecturer and Fellow at Trinity College, Cambridge, has been awarded the Roland H. Bainton Prize 2019 for the best book on early modern literature published in the previous year for her monograph English Mythography in its European Context 1500-1650 (OUP).
The prize, named in honour of Roland H. Bainton, who was Titus Street Professor of Ecclesiastical History at Yale, has been awarded annually since 2002 by the Sixteenth Century Society. The committee selects the 'best books written in English' relating to the period 1450-1660 in four categories: Art and Music History, History and Theology, Literature, and Reference Works. The criteria for selection include 'quality and originality of research; methodological skill and/or innovation; development of fresh and stimulating interpretations or insights; and literary quality'. Previous winners of the Literature prize include Tanya Pollard (2018) and John Kerrigan (2017).
English Mythography in its European Context 1500-1650 was published by Oxford University Press in the Classical Presences Series. This monograph places the works of English mythographers into a wider, European context to reveal their unique English take on the genre.
In the words of the award citation, 'this is an extremely detailed and well-researched book, exploring the role of myths and their reception in Renaissance culture, in all senses of that word. This topic is absolutely fundamental, yet it has been significantly understudied.  Hartmann's study of English mythography is thorough and exceedingly well contextualized. […] The committee admired the relevance and applicability of this book to a wide range of fields covered by the Sixteenth Century.'