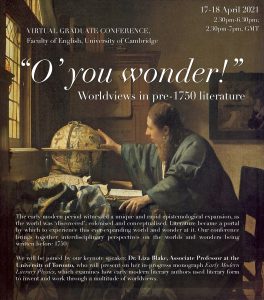 The early modern period witnessed a unique and rapid epistemological expansion as the world was 'discovered', colonised and conceptualised. Literature became a portal for experiencing this ever-expanding world and wondering at it. Our conference brings together interdisciplinary perspectives on the worlds and wonders being written before 1750.
We will be joined by our keynote speaker, Dr. Liza Blake, Associate Professor at the University of Toronto. She will present on her in-progress monograph Early Modern Literary Physics which examines how early modern literary authors used literary form to invent and work through a multitude of worldviews.
This conference will take place virtually on 17th April at 2:30-6:30pm and on 18th April at 2:30pm-7:30 pm.
For more information, please visit our website: https://www.english.cam.ac.uk/research/grad-conference/