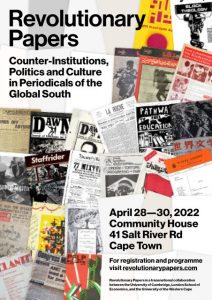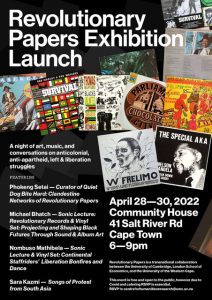 On Thursday, April 28-Saturday April 30, 2022, Revolutionary Papers (RP) will launch Revolutionary Papers: Counter-Institutions, Countercultures, and Counter-Politics in Periodicals of the Global South, an international conference and exhibition in Cape Town, South Africa. RP is a collaboration between the University of Cambridge English Faculty, the London School of Economics Sociology Department, and University of the Western Cape Centre for Humanities Research.

Led by Dr Koni Benson (UWC), Dr Hana Morgenstern (Cambridge), and Dr Mahvish Ahmad (LSE), Revolutionary Papers is an international, transdisciplinary research and digital humanities teaching initiative on anti-colonial, anti-imperial and related progressive periodicals of the Global South. It includes over fifty researchers from universities in Africa, the Arab World, Asia, Latin America, Europe and the United States.
The initiative looks at the way in which periodicals—including newspapers, magazines, cultural journals, and newsletters—played a key role in establishing new counter publics, social and cultural movements, institutions, political vocabularies and art practices. Operating as forums for critique and debate under conditions of intense repression, journals facilitated processes of decolonization during colonialism and after the formal end of empire, into the neo-colonial era. Revolutionary Papers traces the ways that periodicals supported social, political, and cultural reconstruction amidst colonial destruction, building alternative networks that circulated new political ideas and dared to imagine worlds after empire.
The three-day conference (Thursday April 28th-Saturday April 30th) will showcase the works of over forty researchers, exploring magazines and newspapers from countries across the world, including Algeria, Ethiopia, Pakistan, Tunisia, Yemen, South Africa, Kenya, China, The Caribbean, Europe, Palestine, Lebanon, Oman, Namibia, India, the African Diaspora and more. On the evening of April 28th, Revolutionary Papers invite the public to attend an open exhibit on anti-colonial periodicals, featuring an art installation by Phokeng Setai, a curator and PhD candidate at the Department of Anthropology and Centre for Humanities Research, two sonic lectures by Michael Bhatch and Nombuso Mathibela on albums of anti-Apartheid and black liberation struggles, and songs protest from South Asia by Sara Kazmi.
In addition to the conference, the international initiative includes an online seminar, a research web site and innovative digital teaching tools. The site aims to offer a gateway into the extensive network of periodical-based knowledge, culture and social movement history across local, national and international spheres. Designed by participants, the digital teaching tools aspire to provide new methods and pedagogies that will engage researchers and students and encourage instructors to incorporate periodicals into teaching.
Newly revamped website with new teaching tools:
https://revolutionarypapers.org/
Conference program:
https://revolutionarypapers.org/event/revolutionary-papers-counter-institutions-politics-and-culture-in-periodicals-of-the-global-south/