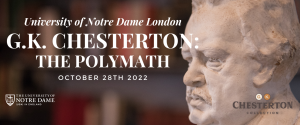 G.K. Chesterton Conference: The Polymath
The inaugural Notre Dame London Chesterton Conference focuses on G.K. Chesterton as a man with an array of interests and gifts, and celebrates the dedication of the newly opened G.K. Chesterton Collection housed at the Notre Dame London Global Gateway.
Chesterton was a genuine polymath who wrote prolifically on philosophy, theology, Catholic social teaching, literary criticism, history, and more. He was a journalist, a writer of fiction and poetry, and was formally trained in the areas of art and design. Chesterton had a very specific connection to the University of Notre Dame in the USA: He was named a visiting professor and given an honorary degree at the home campus in South Bend, Indiana, in 1930. Upon receiving his invitation to the University of Notre Dame, Chesterton was said to have remarked that he was not certain where it was, but with a name like that, even if it were in the mountains of the moon, he should feel at home.
Prof. Hurley's paper explores the practical and philosophical implications of Chesterton's observation — in reference to what it means to be mad or sane in the modern world — that while a small circle is quite as infinite as a large circle, it is not so large.
Link to conference website: https://london.nd.edu/conferences-events/the-notre-dame-london-chesterton-lecture/