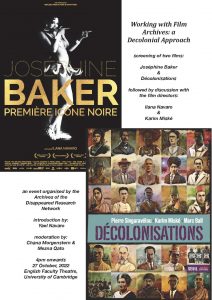 Working with Film Archives: a Decolonial Approach
Thu, 27 October 2022, 16:00 – 19:00 BST
Faculty of English Drama Studio (basement level)
Faculty of English
Cambridge
CB3 9DP
'Working with Film Archives: a Decolonial Approach' is a Workshop featuring the films of two documentarians. We will be screening Ilana Navaro's Josephine Baker: Une Icone Noire and Karim Miské's Décolonisations. These hour long screenings of each film (with English subtitles) will be followed by discussion with the filmmakers themselves. The event will be introduced by Yael Navaro, and moderated by Chana Morgenstern and Mezna Qato of the Archives of the Disappeared Research Group based in Cambridge.
Ilana Navaro has been making films for over 25 years. Originally from Istanbul, she debuted her career as a journalist in Turkey, before settling to Paris in 2001. Her storytelling is often in the form of documentaries (but sometimes of fictions) both for television (Arte and France TV) and for radio (France Culture, Arte Radio, BBC). She particularly likes to tell stories where the intimate meets the political. Originally for Arte, her film Josephine Baker, the story of an awakening, has aired in over twenty TV channels around the world, and has won the Rockie Award in 2020. She is a regular contributor to Les Pieds Sur Terre (often considered like a French version of This American Life) on radio France Culture. She is also the author and producer of the radio series on the French feminist icon Gisèle Halimi, recently adapted to a book, Gisèle Halimi, the troublemaker. Currently, she is finishing a three hour documentary series for Arte, China, dreams and nightmares, in collaboration with Karim Miské and historian Pierre Singaravélou.
Karim Miské is a writer and a documentary filmmaker based in Paris. His 4-hour documentary series, Jews and Muslims, Intimate Strangers (Arte, 2013) was broadcast in 15 countries, purchased by 50 American Universities and awarded the prestigious Lauriers de la Télévision in France. His latest docu-series Décolonisations (co-authored with Pierre Singaravélou and Marc Ball) was broadcast on Arte in 2019. It was awarded the 39th International URTI Grand Prix for Author's Documentary. In 2012, he published his first novel, Arab Jazz (Viviane Hamy, 2012), which won the Grand Prix de Littérature Policière and which has been translated into nine languages. The English translation (Quercus/MacLehose) received the English Pen Award in 2014. The US edition of the book was released in 2016. In 2015, Miské published N'appartenir (Viviane Hamy), a memoir which was adapted to the graphic novel, S'appartenir, in 2016. Alongside his writing, Miské is also co-hosting literary nights at the Pitch Me, a Senegalese restaurant, and teaching crime novel at the new Parisian School of Creative Writing, Les Mots. Karim Miské is currently writing a novel and is the co-author of a new documentary series for Arte, about the contemporary history of China with Ilana Navaro and Pierre Singaravélou.
Register with Eventbrite:
https://www.eventbrite.co.uk/e/working-with-film-archives-a-decolonial-approach-tickets-439537407217