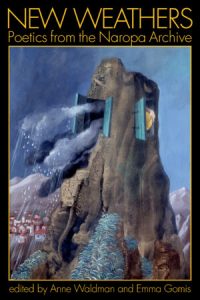 The collection of lectures, transcribed from the audio archives of Naropa University's Summer Writing Program, edited by Emma Gomis and Anne Waldman, is published by Nightboat Books.
The official release date for the publication is 8 November. The book can be preordered here: https://nightboat.org/book/new-weathers/
The editors will be doing a virtual launch with City Lights Books on 10 November: https://citylights.com/events/on-new-weathers-poetics-from-the-naropa-archive/
Emma Gomis is a Catalan American poet, essayist, editor and researcher. She is the cofounder of Manifold Press. She is currently pursuing a Ph.D. in criticism and culture at the University of Cambridge.