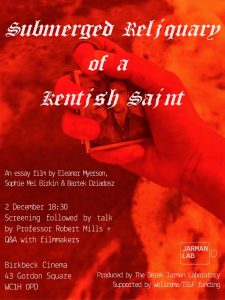 Submerged Reliquary of a Kentish Saint: a new essay-film by Sophie Mei Birkin, Eleanor Myerson and Bartek Dziadosz
When:
Venue: Birkbeck Institute for the Moving Image, 43 Gordon Square
The screening will be accompanied by a talk by Professor Robert Mills, author of Derek Jarman's Medieval Modern (Boydell and Brewer, 2018).
Followed by a panel discussion and Q&A with the makers of the film.
For years the Middle Ages have formed the Paradise of my Imagination", wrote Derek Jarman. "It is…something subterranean, like the seaweed and coral that floats in the arcades of a jewelled reliquary". Featuring original artwork by Sophie Mei Birkin, this new essay-film takes the viewer on a journey into Jarman's medieval reliquary. Based on Eleanor Myerson's research, the viewer will encounter images from both medieval and modern archives. Lady Angharad, the anchoress from Jarman's unrealised film project, Bob-up-a-Down, meets Julian of Norwich, the medieval anchoress whose texts Jarman drew on for inspiration.
In 2018, following the death of Keith Collins, Jarman's companion and carer, Jarman's archives left Prospect Cottage and entered the repository in Tate Britain. The film explores Jarman's archive as a submarine space of grief and exploration. The reliquary becomes an image of queer mourning, both for Jarman himself, and for us, remembering St Derek of Dungeness today.
This film was produced at the Derek Jarman Lab using Wellcome/ISSF funding.
For further information and to book a place: https://www.bbk.ac.uk/events/remote_event_view?id=34510
Dr Eleanor Myerson is the Parker Library Early-Career Research Fellow at Corpus Christi College.  Her research focuses on the medieval English reception of Arabic in the Parker Library Collections, ranging from literary to geographical to astrological and medical manuscripts.