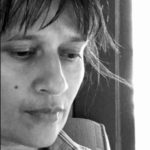 On May 25th, Bhanu Kapil will be the keynote speaker for a one day conference at the University of East Anglia ('Poetry, Representation and the Archive').
The conference is organised as part of the 'Towards a Centre for Contemporary Poetry in the Archive' pilot project, funded by the Mellon Foundation at the British Archive for Contemporary Writing (BACW) at UEA between 2022 and 2023. The proposed Centre will have at its heart a pioneering collection of underrepresented poetries. Its approach to understanding and defining underrepresentation aims to be alert to cross-cutting forms of discrimination in British and Irish literary culture relating to class, gender and ability. It also aspires to critically value and promote innovative formal approaches to contemporary poetic composition – such as the conceptual, the visual, the performed and the digital – as well as the poetic use of dialects and creoles spoken by communities which have been historically marginalised in the UK and Ireland.
'Poetry, Representation and the Archive' brings together researchers in these areas to discuss the kinds of question such a project raises. Bhanu Kapil is  the keynote speaker. The conference is followed in the evening by a drinks reception and poetry readings to mark the launch of the archive of Sarah Maguire: feminist poet, critic, and founder of the Poetry Translation Centre.