I didn't realise something was missing. Or rather, I didn't realise that I would care that something was missing. In fact, I was pretty sure that a November which didn't involve dodging my mother's annual pie bake-a-thon, explaining to my Dad for fiftieth time why my husband and I wouldn't be eating the turkey (we eat kosher), shuttling my son to my ex-husband's parents' house halfway though the day, and then helping clean up after a dinner party of 25, sounded just about perfect.
But on Monday morning, I woke up to this…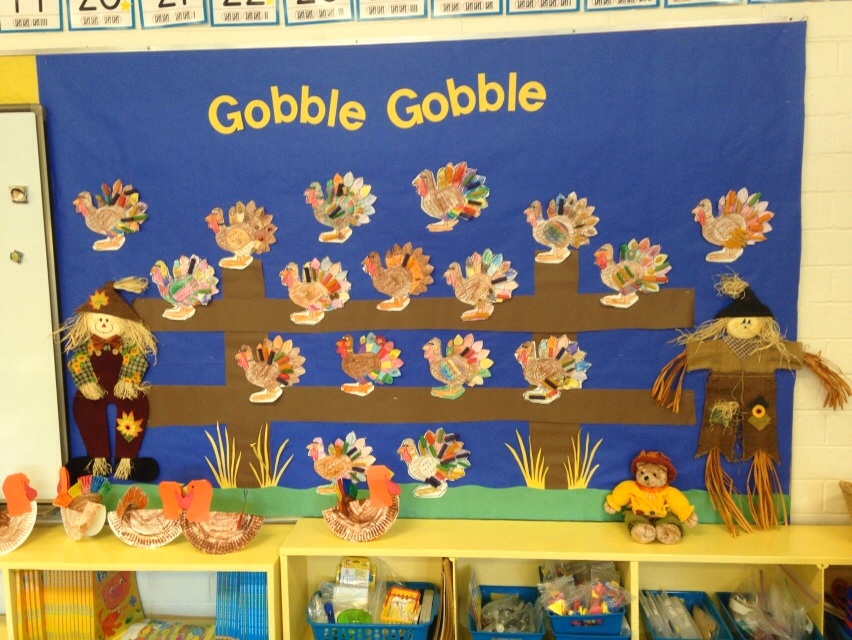 …a photo of a festively decorated bulletin board from my mother's Kindergarten classroom. In case you are not well versed in the finer American arts, the rainbow-tailed, avian effigies pictured above are colour-cut-and-glue turkeys. Sometimes these garish gobblers come in the form of hand tracings, coloured to resemble turkeys, other times they are assembled from pre-made outlines that have been photocopied from the same Xerox master copy for decades; passed down from one teacher to another upon retirement…along with a box of paper-plate Puritan hats, and politically incorrect Native American pasta necklaces. In fear of causing a cultural-insensitivity uproar, the contents of said inherited box would be immediately discarded… all except for the Xerox turkey master copy… it's worth its weight in gold(en) mashed potatoes.
But I digress.
Monday morning found me in want of turkeys. It found me in want of overly simplistic renderings of the pilgrim/Native American food swap and celebration. It found me in want of handmade cornucopias made from badly coloured paper plates stapled together with poorly cutout pictures of fruit. It found me in want of the familiar — not that Cambridge is entirely unfamiliar to the American eye — but the knowledge that the familiar was taking place without me…found me wanting.
Luckily there are two other expat families in our complex who were experiencing similar "wantings," so today we will be hosting our own food swap, complete with semi-crazed "bake-a-thon," confused explanations of why our family is not eating turkey, and cleaning up after a massively large dinner party… as well as a communal watching of Charlie Brown's Thanksgiving and perhaps Disney's The Adventure of Ichabod and Mr. Toad  (narrated by the king of American holidays – Bing Crosby) while the tryptophan sets in.
Happy T-day everyone.
Recommended T-day Movie Watch List (via youtube!)
Charlie Brown's Thanksgiving (https://www.youtube.com/watch?v=LQ961y0VKEk)
Really gets at the heart of the American cultural matter.
Disney's The Adventures of Ichabod and Mr. Toad (https://www.youtube.com/watch?v=2cjfDGJHGko) – I have no idea why these are paired together, but it's part of the experience. Please note – Ichabod is Ichabod Crane from Washington Irving'sThe Legend of Sleepy Hollow.