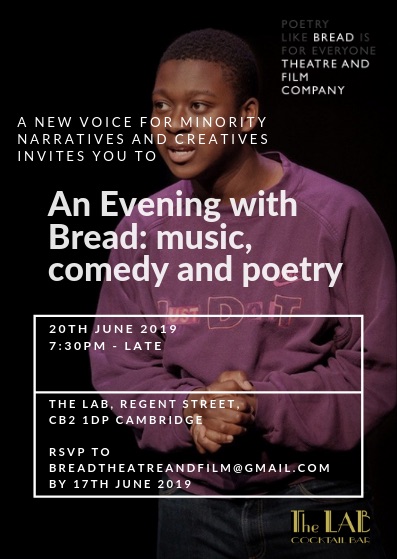 An exciting new initiative, Bread Theatre and Film Company – is a fresh voice for minority narratives and creatives in Cambridge. Our vision is to create a more representative theatre space, and to capture oft-lacking diverse cultural heritage and rich contemporary context in the selection of plays, playwrights, and performers.
Bread's launch evening will be held on June 20th from 7:30pm at 'The LAB', a snazzy new bar on Regent's St, Cambridge, with a decadent '20s vibe. There will be music, comedy, and poetry with students, alumnis, creative professionals and university leaders.
Bread is supported by Jason Mellad of StartCodon, and the University of Cambridge VC's office.
RSVP at https://www.eventbrite.co.uk/e/bread-launch-evening-tickets-63302568687 or breadtheatreandfilm@gmail.com.
We'd love to see you there.