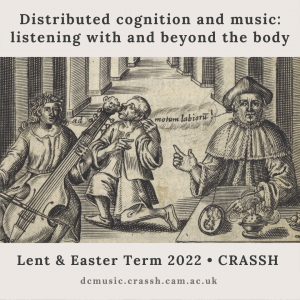 Starting in late January, CRASSH hosts a podcast (and accompanying live Q&A and discussion sessions) titled "Distributed Cognition and Music: Listening with and beyond the Body".
The convenor, Maral Attar-Zadeh  and the working group participating in the discussion sessions are all members of the Faculty of English, though the series is interdisciplinary in nature and open to the public.
This event series aims to reflect on how distributed models of cognition apply to, and change our perception of, musical engagement. Growing interest in music-making practices outside the normative, and ideally sterilised, settings of the concert hall and the studio has already highlighted the extent to which 'musicking' creates living, distributed assemblages out of performers, listeners, instruments, and architectural spaces. In each session of the series, the academics, performers, and practitioners interviewed will share their reflections on the way the language and insights of distributed cognition engage and enrich models of aural encounter in fields such as music performance, environmental studies, history, religious studies, and literature.
It is hoped that the series is not only an exploration of the links between distributed cognition and music but also an exercise in distributed thinking, mutual listening, and communal sound-making, making room for challenging and illuminating cross-disciplinary conversations about music in and across minds, bodies, and worlds.
The first podcast episode will be released on 20th January and the first discussion session will be on the 27th.
Maral Attar-Zadeh is a Doctoral Student in the Faculty of English and Trinity College.
Link to the Distributed Cognition and Music website.