Conservation Report for Pembroke College
Manuscript fragments, stored in the University Library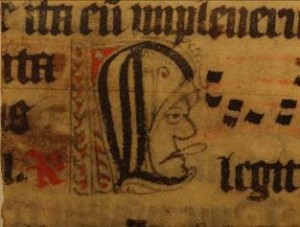 A wide assortment of parchment manuscript fragments, some with illuminations, which have been used as spine linings (a few comb spine linings) or guards. Also includes a few parchment manuscript gatherings, board papers and endleaves.
Condition on Receipt
These manuscript fragments, along with the fragments from 43 medieval bindings, were discovered on a shelf at the end of the Pembroke manuscript shelving bay at the University Library in early 2014 (see Figs. 1 & 2).
The fragments were housed in either twentieth-century stationery folders or loosely wrapped in brown parcel paper, soft and torn sugar paper, brown envelopes and other inappropriate, non-archival wrappings. Some annotations as to the original accession number of the manuscripts had been written in ink or pencil on the outside of this housing. (Please note: a separate conservation report has been written to cover the cleaning, repair and housing of the manuscript bindings.)

In addition, to manuscript numbers written on the outside of the various packaging materials, some provenance notes and other manuscript notes written in pencil and ink on paper referring to the fragments were enclosed in the wrappings and folders. Having been stored on open shelving and, presumably, before that in the corner of the bookbinders' workshop, the manuscript fragments (many with beautiful illuminations – see Fig. 3) had considerable surface dirt.
Many fragments were crumpled and torn, and retained surface material from the boards or the textblock spine (Fig. 4).
Other fragments were crudely grouped together using corrosive metal paper-clips (see Fig. 5).
Earlier repairs to the fragments using a yellowed, acidic glassine-type paper were also in evidence (see Figs. 6 & 7).
Some of the fragments were incredibly fragile with a lacework of holes gnawed by rodents (see Fig. 8).
Conservation Treatment
All the parchment fragments were cleaned with a soft brush and vulcanised rubber smoke-sponge to remove surface dirt. Those items badly creased or distorted were lightly humidified and either pegged out on a board using padded clips on the edge of the parchment or gently pressed between paper-maker's felt and boards. Parchment items with small dog-ear folds or creases were flattened locally by using the very minimal moisture applied with a cotton wool bud along the crease and pressing between paper-maker's felts and boards.
For those parchment fragments that had at some stage been repaired with a glassine-type paper, a poultice of a viscous mixture of Sodium Carboxy Methyl Cellulose in purified water (SCMC) was applied to the repair to remove the paper (see Fig. 9).
Once the old repairs were removed, new minimal repairs were carried out using a kozo fibre, Japanese Tengujo repair tissue applied with a dry purified wheat-starch paste.
In order to facilitate handling, all items were encapsulated in polyester sleeves (see Figs. 10 & 11). Groupings were retained by tying the encapsulated items together with waxed linen thread or archival tape. Any provenance notes or bookbinder's scribbles found with the parchment fragments was encapsulated and attached to the grouping in the same way (see Fig. 12). Larger board papers or endleaves were housed in folds of archival text paper.
All fragments were then housed in archival boxes along with the binding fragments and covers (see Fig. 13).
A full box listing was prepared and a print-out of the list of the contents of each box was included within each individual archive box.
Bridget Warrington, Cambridge Colleges' Conservation Consortium.
The manuscript fragments project for Pembroke College took two years to complete and was worked on by five different conservators during that time: Elizabeth Bradshaw, Edward Cheese, Francoise Richard, Sylvia Thom and Bridget Warrington.
All photographs are reproduced with kind permission of the Master and Fellows of Pembroke College, Cambridge.