Thinking Paper's 2022 Lent Term Workshop
The Cambridge University Library's Research and Collections Programme funds a number of incredible research projects: among them, the Thinking Paper project led by Dr. Orietta Da Rold (of the English Faculty) and Dr. Suzanne Paul (of the University Library). Thinking Paper refocuses attention on a medium that in Europe's premodern era heralded a technological revolution: paper represents an important interdisciplinary conversation between literary scholars, historians of the book, economists, archivists, conservators, curators, artists, material scientists, surface chemists, bioarcheologists, and more. Understanding paper's historical significance to these fields creates conversation that moves the materiality of the book not just to the forefront of scholarship, but to the center of research focused on the multivalence of a medium that continues to be essential to contemporary study—and life.
Generating cross-disciplinary conversations was the focus of 2022's Lent Term Thinking Paper Workshop, entitled 'Legacies of Paper: in the Archives and Beyond'. By 'legacy', we intended to think about paper as an influential medium across multiple contexts ranging from the scientific to the historical to the literary. To engage that conversation from multiple angles, we invited speakers from an array of expert backgrounds to articulate how paper figured in their research. The results were stunning: speakers generously gave papers on early modern economies and class-structures, the contemporary ethics of the archives, new readings of texts like Ben Jonson's Sejanus His Fall, and much more.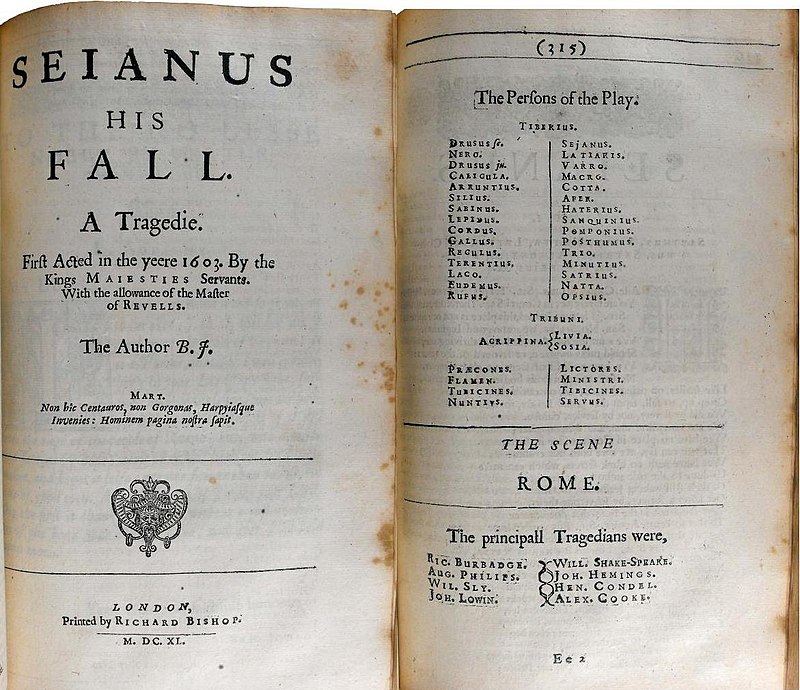 Title page of the 1616 folio edition, with list of actors opposite.
Continue reading