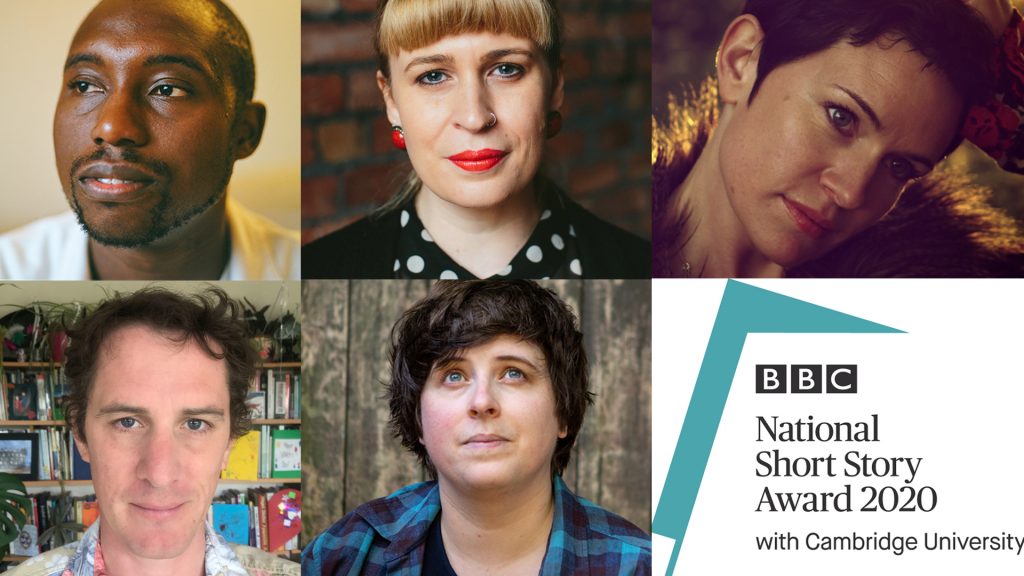 www.bbc.co.uk/nssa #BBCNSSA #ShortStories
BBC National Short Story Award with Cambridge University 2020 shortlist is:
'Pray' by Caleb Azumah Nelson
'In The Car With the Rain Coming Down' by Jan Carson
'The Grotesques' by Sarah Hall
'Come Down Heavy' by Jack Houston
'Scrimshaw' by Eley Williams
The BBC National Short Story Award is one of the most prestigious for a single short story, with the winning author receiving £15,000, and four further shortlisted authors £600 each. The 2019 winner of the BBC National Short Story Award was Welsh writer Jo Lloyd, who won for 'The Invisible'.
The 2020 winner will be announced live on BBC Radio 4's Front Row on Tuesday 6th October.
All five stories will be broadcast on Radio 4 and on BBC Sounds and published in an anthology produced by Comma Press. The readers of this year's stories include award-winning actress of stage and screen Anne-Marie Duff, who reads 'Come Down Heavy'; Law and Order actor and rapper Ben Bailey-Smith, aka Doc Brown, reading 'Pray'; and Outlander star and Northern Irish actor Laura Donnelly reading 'In The Car With the Rain Coming Down'. Lydia Wilson, whose television credits include Requiem and Flack reads 'The Grotesques', with Call the Midwife and Fresh Meat actor and singer-songwriter Charlotte Ritchie completing the line-up with 'Scrimshaw'.
Jonathan Freedland, journalist, author and Chair of Judges for the BBC National Short Story Award 2020, says: 'In a strange, perplexing year, we five judges were privileged to be taken away to worlds both faraway and near, rendered by five brilliant writers. These stories deal with the timeless human preoccupations – family, love, loss, longing – but with freshness, energy and great skill. Any reader picking up the collection or tuning into them on air has a variety of delights to look forward to and – luckier than us – they'll be free of the painful task of picking a winner.'
Jonathan Freedland is joined on this year's judging panel by Commonwealth Prize winner Lucy Caldwell, who was shortlisted for both the 2012 and 2019 BBC NSSA; British-Nigerian writer Irenosen Okojie, a Betty Trask and Caine Prize winner; Edge Hill Prize shortlistee and Guardian short story columnist Chris Power; and returning judge Di Speirs, Books Editor at BBC Audio.
Di Speirs, Editor of Books at BBC Audio and judge of the Award since its launch says: 'I am inordinately proud of this year's shortlist – it's sharp, relevant, sometimes heart-rending, sometimes funny! If we set out 15 years ago to help save the short story, what this year's writers prove is that in 2020 it is rude health and more versatile and flexible than ever. From what is practically but perfectly miniaturised flash fiction, to the fully literary and layered, via bold new voices tackling tough realities and incisive humour within domestic tensions, this list reflects a generation of writers playing with form, range and the freedom of short fiction. Do listen to or read them.'
The BBC National Short Story Award with Cambridge University was established to raise the profile of the short form and this year's shortlist join distinguished alumni such as Zadie Smith, Lionel Shriver, Rose Tremain, William Trevor and Mark Haddon. As well as rewarding the most renowned short story writers, the Award has raised the profile of new writers including Ingrid Persaud, K J Orr, Julian Gough, Cynan Jones and Clare Wigfall.
Dr Sarah Dillon, University of Cambridge says:
'It is a pleasure this year to see the shortlist represent both established writers of short stories, and new emerging writers, reflecting Cambridge's commitment both to studying the canonical history of short fiction, and its focus on nurturing students' creativity and voice. In a year such as this, the shortlist yet again demonstrates the importance of creative writing, especially the short form, for making sense of the world we all share.'
About the short stories:
British-Ghanaian Caleb Azumah Nelson's 'Pray' is a 'vibrant, invigorating and agile' story set over a summer in South East London. Charged with 'wit, anger, affection and sorrow', the story shows the reality for young black men navigating a world that 'wasn't built with us in mind'.  With characters and dialogue so alive they reach out from the page, 'Pray' explores fear, injustice, masculinity, race and the origins of violence. Caleb's eagerly anticipated debut novel Open Water recently sold in a nine-way auction and publishes in February 2021.
Jan Carson, winner of the EU Prize for Literature for Ireland 2019, is shortlisted for her 'tender, humane and sharply observed' story 'In The Car With the Rain Coming Down'. Inspired by her upbringing in rural, Protestant Northern Ireland, she takes both her characters and readers on a literal and emotional journey, weaving together family politics and community rivalries as a family set off on an ill-fated picnic. Tender, nuanced and funny, it will resonate with anyone who is part of an extended family.
Carson is joined on the shortlist by Sarah Hall, the 2013 BBC NSSA winner, twice nominated for the Booker prize and the author of five novels. 'The Grotesques' is the 'brilliantly observed and layered story' of a young woman's birthday gathering. Set against the backdrop of privilege and inequality in a university town, it explores themes of toxic mother-child relationships, covert control, scapegoating, and the masks we can wear to either challenge or conform to our place in society.
Shortlisted for the Award for the first time is Keats-Shelley Prize runner-up and one-to-watch Jack Houston with the 'uncompromising, compelling' 'Come Down Heavy', inspired by his own experiences. Echoes of Kae Tempest and Irvine Welsh imbue the prose-poetry of his 'breathless' work – a spiralling, unsettling and disorientating story of two women's seemingly unstoppable descent into a world on the fringes of society; a world of poverty, violence, addiction and despair.
Completing the shortlist is Eley Williams, Creative Writing Lecturer at Royal Holloway and winner of the James Tait Black Prize, shortlisted for her surreal and succinct 'Scrimshaw'. A 'fresh, funny' take on millennial relationships and the perils of modern smartphone communication, this 'taut tale' told via a late-night text session and inspired by the 'literary nonsense' of Edward Lear and Ivor Cutler, explores self-censorship, anxiety, attraction and the boundaries of language.
The BBC also continue to celebrate young, emerging talent with the sixth BBC Young Writers' Award with First Story and Cambridge University shortlist announced on Sunday 20th September. Open to 13 – 18 year olds, the aim of this Award is to inspire and encourage the next generation of short story writers and is a cross-network collaboration between BBC Radio 4 and BBC Radio 1. The winner of the BBC Young Writers' Award will also be announced on 6th October on Front Row.
ABOUT THE SHORTLISTED WRITERS: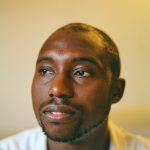 Caleb Azumah Nelsonis a 26-year-old British-Ghanaian writer and photographer. His writing has been published in Litro and is forthcoming in The White Review. He was recently shortlisted for the Palm Photo Prize and won the People's Choice prize. Open Water, his eagerly anticipated debut novel, is published by Penguin Viking (UK) and Grove Atlantic (US) in February 2021. Caleb lives in South East London.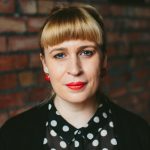 Jan Carson is a writer and community arts facilitator. Her debut novel Malcolm Orange Disappears and short story collection, Children's Children, were published by Liberties Press, Dublin. A micro-fiction collection, Postcard Stories was published by the Emma Press in 2017. A second volume is forthcoming in August 2020. Jan's novel The Fire Starters was published by Doubleday in April 2019 and subsequently won the EU Prize for Literature for Ireland 2019, the Blackwell's Books Kitschies Prize for speculative fiction and was shortlisted for the inaugural Dalkey Book Prize 2020. Jan has also been shortlisted for the Sean O'Faolain Short Story Prize and in 2016 won the Harper's Bazaar Short Story Prize. Her work has appeared in journals such as Banshee, The Tangerine, Winter Papers and Harper's Bazaar and on BBC Radio 3 and 4. In 2018 Jan was the Irish Writers Centre's inaugural Roaming Writer in Residence on the trains of Ireland. She is the 2019 recipient of the Jack Harte Bursary. Jan has curated the CS Lewis Festival, the Hillsborough Festival of Literature and Ideas and the inaugural Belfast Lit Crawl. She specialises in arts engagement with older people living with Dementia and has received funding through Queen's University Belfast to carry out a research project into the representation of Dementia in literature. Carson has a BA in English from Queen's University Belfast and a MLitt in Theology and Contemporary Culture from St Andrews University, Scotland. She has facilitated creative writing workshops for the University of Ulster, Irish Writers Centre, Dublin, John Hewitt Summer School, West Cork Literary Festival and many other universities, festivals and organisations. Jan was born in Ballymena and now lives in East Belfast, Northern Ireland.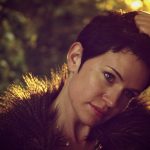 Sarah Hall was born in Cumbria in 1974. Twice nominated for the Man Booker Prize, she is the award-winning author of five novels and three short-story collections – The Beautiful Indifference, which won the Edge Hill and Portico prizes, Madame Zero, shortlisted for the Edge Hill Prize and winner of the East Anglian Book Award, and Sudden Traveller(2019). She is currently the only author to be four times shortlisted for the BBC National Short Story Award, in 2010, 2013, 2018, and now in 2020; she won in 2013 with her story 'Mrs Fox'. Sarah was born in Cumbria and lives in Norwich.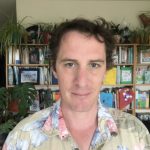 Jack Houston's poetry has been published in a wide range of literary magazines and in a few anthologies, been shortlisted for the Basil Bunting and Keats-Shelley Prizes and taken 2nd Prize in the 2017 Poetry London Competition. He works within Hackney's Libraries where he has held a range of poetry events, most recently an online Lockdown Poetry Workshop. He also teaches a poetry writing course for a local chapter of Age UK. As a mature student, he received a BA in Creative Writing from London Metropolitan University and then went on to receive an MA in Writing Poetry from the Poetry School / Newcastle University. Jack is from, and still lives in London.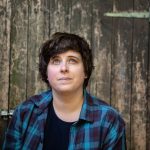 Eley Williams lectures at Royal Holloway, University of London. Her short story collection Attrib. and Other Stories (Influx Press) won the James Tait Black Prize and the Republic of Consciousness Prize. The Liar's Dictionary (William Heinemann) is her debut novel and is published this year. Eley was born in Chiswick and lives in Crouch End, London.
ABOUT THE AWARDS AND PARTNERS:
The BBC National Short Story Award with Cambridge University (NSSA) celebrates its 15th anniversary in 2020 with the aim to expand opportunities for British writers, readers and publishers of the short story and honour and celebrate the UK's finest exponents of the form. James Lasdun secured the inaugural Award in 2006 for 'An Anxious Man'. In 2012, when the Award expanded internationally for one year, Miroslav Penkov was victorious for his story, 'East of the West'. Last year, the Award was won by Jo Lloyd for her story 'The Invisible'. K J Orr, Sarah Hall, Cynan Jones, Jonathan Buckley, Julian Gough, Clare Wigfall, Kate Clanchy, Ingrid Persaud and David Constantine have also carried off the Award with authors shortlisted in previous years including Zadie Smith, Jackie Kay, Hilary Mantel, William Trevor, Rose Tremain and Naomi Alderman.
The BBC National Short Story Award with Cambridge University is open to authors with a previous record of publication who are UK nationals or residents, aged 18 years or over. The story entered must either have been unpublished or be first published or scheduled for publication after 1st January of the previous year. The story should have a maximum of 8000 words and must have been written in English. The Award offers £15,000 for the winner and £600 to four shortlisted writers. For more information please visit www.bbc.co.uk/nssa
BBC Radio 4 is the world's biggest single commissioner of short stories, which attract more than a million listeners. Contemporary stories are broadcast every week, the majority of which are specially commissioned throughout the year www.bbc.co.uk/radio4
The mission of the University of Cambridge is to contribute to society through the pursuit of education, learning and research at the highest international levels of excellence. To date, 107 affiliates of the University have won the Nobel Prize. Founded in 1209, the University comprises 31 autonomous Colleges, which admit undergraduates and provide small-group tuition, and 150 departments, faculties and institutions. The University sits at the heart of one of the world's largest technology clusters. The 'Cambridge Phenomenon' has created 1,500 hi-tech companies, 14 of them valued at over US$1 billion and two at over US$10 billion. Cambridge promotes the interface between academia and business and has a global reputation for innovation. The BBC National Short Story Award is being supported by the School of Arts and Humanities, Faculty of English, University Library and the new University of Cambridge Centre for Creative Writing which is part of the University of Cambridge Institute of Continuing Education, which provides a range of part-time and courses to members of the public. https://www.ice.cam.ac.uk/centre-creative-writing