As part of a wide range of activities around the BBC-Cambridge-First Story Awards Partnership, on 25th September 2018 the First Story Young Writers' Festival was held for the first time at the University of Cambridge. On the day, the University's Sidgwick Campus welcomed 330 students between the ages of 11 and 17 from 19 schools across the East Midlands, London, Lancashire and East and West Yorkshire. The day was supported by more than 40 teachers, 26 writers and 25 volunteers.
42 intensive creative writing workshops ran throughout the day, led by 23 acclaimed writers including poets, playwrights and novelists; over 740 pieces of creative writing had been produced by students, teachers, volunteers and writers on the day; more than 320 books were bought by students and taken to a new home.
Students
The festival opened with testimonies from two First Story alumni, who shared their experience of the programme with the new cohorts. Imaru Lewis, participated in the First Story programme at Highgate Wood School in London from 2015-2016.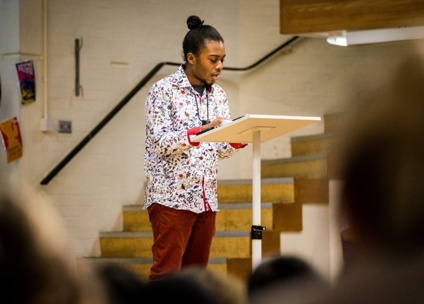 'First Story exposed me to a side of writing I hadn't the courage to venture in to on my own. The big step of sharing my work. We all fear ridicule and critical comments from our peers within our close circle. But in reality, when people want to ask you about your characters, are nagging you for the next instalment of your story, it makes you want to write even more… So, First Story taught me how to make my story belong to other people.' Imaru Lewis, First Story alumnus
Chloe Holland, a former student who participated in First Story's programme at Appleton Academy in West Yorkshire, gave an engaging and impassioned speech about her journey with First Story.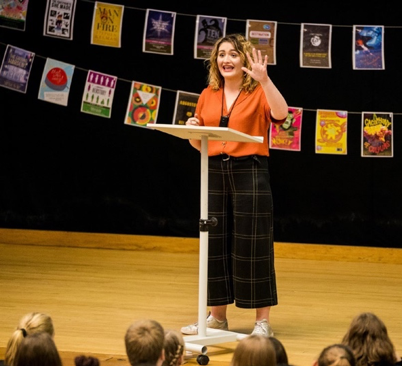 Currently in her second year studying Sociology at the University of Huddersfield, Chloe is the first person in her family to attend university and next year will be studying abroad in America at East Tennessee State University. Chloe shared her memories of the First Story programme and spoke about how it helped her to develop confidence and communication skills needed to realise her academic potential.
'Writing for me, opens up many things. . . All your stories can be written on paper, but it's your choice to create your own story. What you get out of [First Story] is not going to determine your future, but it's going to have a massive impact on that.' Chloe Holland, First Story alumna
Workshops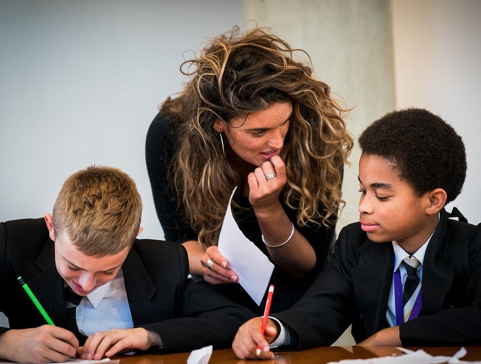 During the day, First Story young writers participated in two intensive writing workshops with an array of acclaimed poets, novelists and playwrights, such as Ben Faccini, Khadijah Ibrahiim, Roland Chambers, Dean Atta, Francesca Beard, Malika Booker, Rebecca Tantony and Ross Raisin amongst others.
A great strength of the First Story workshops is the safe and trusting environment that is created, which enables students to talk about their own lives and experiences and express themselves freely. After attending these workshops, students are invited to take to the stage and share their own stories. By the end of the day, 16 students had boldly stepped up to read their new pieces of writing in front of an audience of their peers, a challenge which even the most confident of writers can find daunting.
Teachers
The Festival also hosted a unique Teachers' Masterclass led by experienced writer-educators. In 2018 the session was led by Dan Powell. The purpose of these sessions is to help teachers to embed creative writing in their own teaching practices when they go back to the classroom and to give them an opportunity to write creatively themselves. In addition to this, the teachers accompany students to keynote sessions and participate in the writing workshops, so that they are able to share the experience and see their students writing.
Headline Writers
The 2018 plenary session took the format of a panel discussion, hosted by Dr Sarah Dillon of the University of Cambridge, which showcased both familiar and new writers to students. Panellists included the award-winning poet Kei Miller, a Trinidadian poet whose first collection was nominated for the 2018 Forward Prize Shivanee Ramlochan, and bestselling author Stephen Kelman, whose novel Pigeon English is a key text on the GCSE syllabus.
The discussion brought together a range of writers from a variety of cultural backgrounds and focused on the speakers' own writing journeys. The writers highlighted the importance of seeing the world you come from reflected in the books you read and conveyed the powerful message to the students that every story is unique and deserves to be told.
The session ended with an audience Q&A, followed by the opportunity for students to purchase headliners' books and have them signed. This gave students the chance to meet and speak to award- winning writers individually.
Give A Book
We are fortunate to work closely with the literacy charity Give A Book. Every year they donate up to 1,000 books to the Young Writers' Festival for us to sell for £1 to students with the aim that every student who attends the Festival goes home with at least one book, often the first book they own themselves. This year, headliners and First Story writers signed copies for students, and more than 320 books were taken to new homes!