Saba Sams wins 17th BBC National Short Story Award for Debut Story Celebrating the Power and Agency of Youth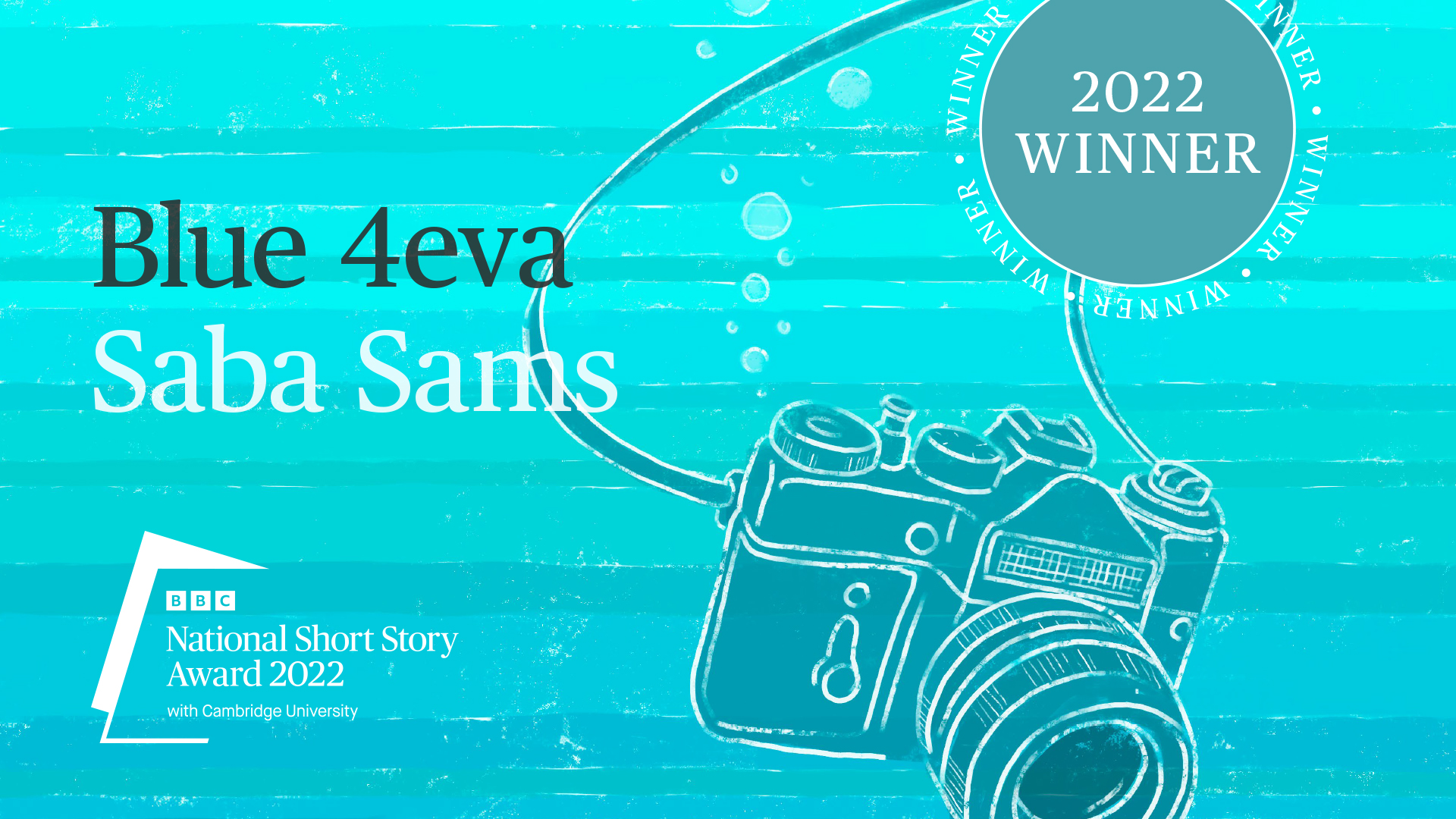 Saba Sams has won the seventeenth BBC National Short Story Award with Cambridge University (NSSA) with 'Blue 4eva', a story about sexual identity, agency, power and class, taken from her debut collection, Send Nudes.
Sams was presented with the prize of £15,000 this evening (Tuesday 4 October) by the 2022 Chair of Judges Elizabeth Day at a ceremony held at BBC Broadcasting House with the news announced live on BBC Radio 4's Front Row. 'Blue 4eva' is available to listen to on BBC Sounds.
Praised for its 'utter truthfulness' and 'authentic portrayal of the dynamics of familial relationships', 'Blue 4eva' is a story about a newly blended family's summer holiday. It was inspired by Sams' memories of her own childhood holidays on Formentera and features twelve-year-old Stella as she deftly navigates the powerplay between her voyeuristic new stepfather, eighteen-year-old stepsister, Jasmine, and Jasmine's best-friend, Blue. First drafted when Sams was a 19-year-old creative writing student at the University of Manchester, the judges were particularly enamoured by the 'veracity of the writing' and the portrayal of Stella, whose warmth, agency and strength of character, were both refreshing and empowering.
Talking about her story, Sams says: "It's very special to have 'Blue 4eva' – a story I've been working on, in one way or another, since I was nineteen – be given this kind of esteem. I first wrote 'Blue 4eva' in rainy Manchester when I was a student, though it was very different then. The story was very short, more of a vignette, but I had fun with it. When I was writing Send Nudes a few years later, I returned to the story and started working on it again. I'm always thinking about what it looks like to be a young woman: about bodies and power, about friendships and family, about the ways we're constantly looking to break free. 'Blue 4eva' engages with sexuality too, particularly with queerness, in a subtle way that I found interesting to write."
Originally from Brighton, Sams holds a BA in Creative Writing from The University of Manchester and an MA in Creative Writing at Birkbeck, University of London. Her work has been published in Stinging Fly, Granta and Five Dials, among others and she was shortlisted for the White Review Short Story Prize in 2019. Her debut collection of short stories, Send Nudes (Faber, 2022) is also shortlisted for the Edge Hill Prize 2022.
"When I first read 'Blue 4eva', I was engrossed by its transportive atmosphere, its masterful telling of complex family dynamics and the sense of building tension. Saba Sams is adept at wrongfooting our assumptions, creating a set of unique, multi-dimensional characters with rich internal lives, and viewing it all through the lens of a 12-year-old girl. It's such an achievement to be able to do that in under 8000 words. I loved this story from the moment I read it and can't stop thinking about it even now. I'm delighted we found such a worthy winner." Chair of Judges, Elizabeth Day
"We loved the freshness and the spirit in the writing of 'Blue 4eva' – Saba Sams not only brilliantly captures the nuances of blended family dynamics, the jealousies and stresses, the efforts and the rejections, but she gives her young women credible and laudable agency and energy. We recognised them and laughed with them. We were delighted too, to discover that we had chosen a writer who has already, at 26, created such an exciting body of work that she has published her first short story collection. This award has always sought to reward excellence and dedication to the unique and challenging form of the short story and this year's winner more than fulfils our ambition." Di Speirs, Editor of Books at BBC Audio and judge of the Award since its launch.
Sams beat a shortlist dominated by the UK's most original and imaginative writers, including composer, performer and writer, Kerry Andrew for 'And The Moon Descends on the Temple That Was'; Professor of Writing at Lancaster University and Betty Trask Award winning novelist, Jenn Ashworth for 'Flat 19'; thriller writer, Anna Bailey for 'Long Way to Come For a Sip of Water' and short story writer and poet, Vanessa Onwuemezi for 'Green Afternoon'.
This year's judging panel was chaired by novelist and broadcaster, Elizabeth Day. She was joined by Costa First Novel Award winning novelist Ingrid Persaud; writer, poet and editor, Will Harris; Booker Prize shortlisted novelist and Professor of Creative Writing, Gerard Woodward; and returning judge Di Speirs, Books Editor at BBC Audio.
The BBC National Short Story Award is one of the most prestigious for a single short story, with the winning author receiving £15,000, and the shortlisted authors £600 each. Each of the five shortlisted stories are available to listen to on BBC Sounds and are also published in an anthology BBC National Short Story Award 2022, introduced by Chair of Judges Elizabeth Day and published by Comma Press. The 2021 winner of the BBC National Short Story Award was Lucy Caldwell who won for 'All the People Were Mean and Bad'.
"Saba Sams' 'Blue 4eva' is a triumphant and unnerving portrait of youthful desire and adult failings. The story's atmosphere is sensual and dangerous but through detailed observations Sams allows each character space to grow and surprise us. The shortlist for this year's BBC National Short Story Award with Cambridge University shows the best writers of our generation using skill and wit to build worlds that are, like our own, troubled and uncertain." Dr Bonnie Lander Johnson, Fellow, Lecturer and Director of Studies at Cambridge University.