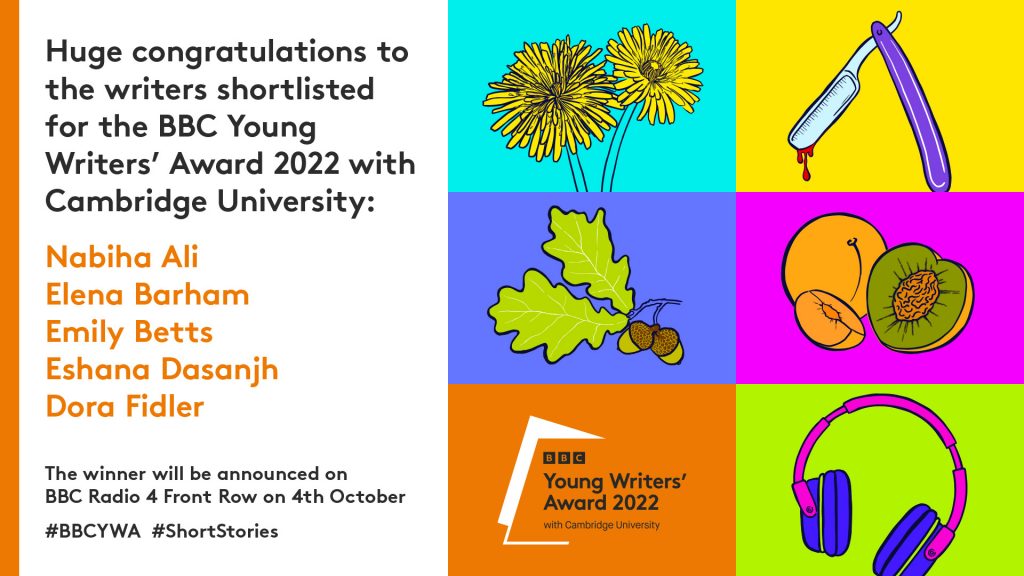 Now in its eighth year, the BBC Young Writers' Award with Cambridge University challenges young people in the UK aged between 14-18 years to submit stories of up to 1,000 words. The 2022 shortlist was revealed on Life Hacks, on BBC Radio 1 on Sunday, 25 September 2022.
The 2022 BBC Young Writers' Award shortlist with Cambridge University is:
'Dandelions' by Nabiha Ali, 16, from Lancashire
'Little Acorns' by Elena Barham, 19, from Sheffield
'Bite' by Emily Betts, 17, from Northamptonshire
'Peach' by Eshana Dasanjh, 18, from Leeds
'The Poltergeist' by Dora Fidler, 17, from Barnet
BBC Radio 1's Katie Thistleton is Chair of the BBC YWA. The Life Hacks presenter returned to the judging panel for the teenage award for the fifth time.
Katie says: "What a year of exceptional entries! It has been an absolute privilege to read so many bold, and yet quietly intimate, stories of such astonishing quality. Relationships seem to be a real focus for our shortlisted writers this year, and yet each has found a totally unique and original – sometimes subversive – way to explore the subject, whether drawing on lived experience, or subjects they are passionate about. I'm in awe, and I know my fellow judges feel the same. Each and every writer on this list has a brilliant writing future ahead of them and I can't wait to see what they do next."
Fellow judge, poet and author, Nikita Gill says: "These stories are tales so rich in imagery, lyrical words and with such unique plots! I feel honoured to have read through these truly exceptional stories and would like to commend all the writers for the way they have handled even the most difficult subject matter with nuance and great care. The quality of this year's entries is beyond brilliant and I look forward to seeing these writers continue to thrive in their excellent work!"
Listen to the shortlisted stories
The winner of the BBC Young Writers' Award with Cambridge University will be announced live from an award ceremony at BBC Broadcasting House on BBC Radio 4's Front Row from 7.15pm on Tuesday 4th October 2022.
Previous winners of the YWA are Brennig Davies (2015), Lizzie Freestone (2016), Elizabeth Ryder (2017), Davina Bacon (2018), Georgie Woodhead (2019), Lottie Mills (2020) and Tabitha Rubens (2021).