MS Ee.4.32 is datable to s. s.xv2 and contains two texts: The Three Kings of Cologne and the English Prose Brut Chronicle. Renown Brut scholar Lister Matheson asserts that: 'The Middle English prose Brut survives in more manuscripts than any other Middle English work except the two Wycliffite translations of the Bible'[1]. Matheson's compiled catalogue of the Brut lists nineteen extant versions of the Latin Brut[2], forty-nine versions of the Anglo-Norman Brut[3], and over one-hundred-seventy versions of the Middle English Brut[4]. For a complete list and location of these manuscripts, please see Matheson's monograph The Prose Brut: The Development of a Middle English Chronicle. 
The Brut Chronicle features just two instances of strikethrough. There are, however, a number of instances where the word 'pope' seems to have been first erased and then re-entered into the text. This phenomenon begins on fol.82r, within the rubrication 'How Stephene of Langetoun come in to Engelonde through the pope commandement and thaune he wente aȝenſ one aftere'.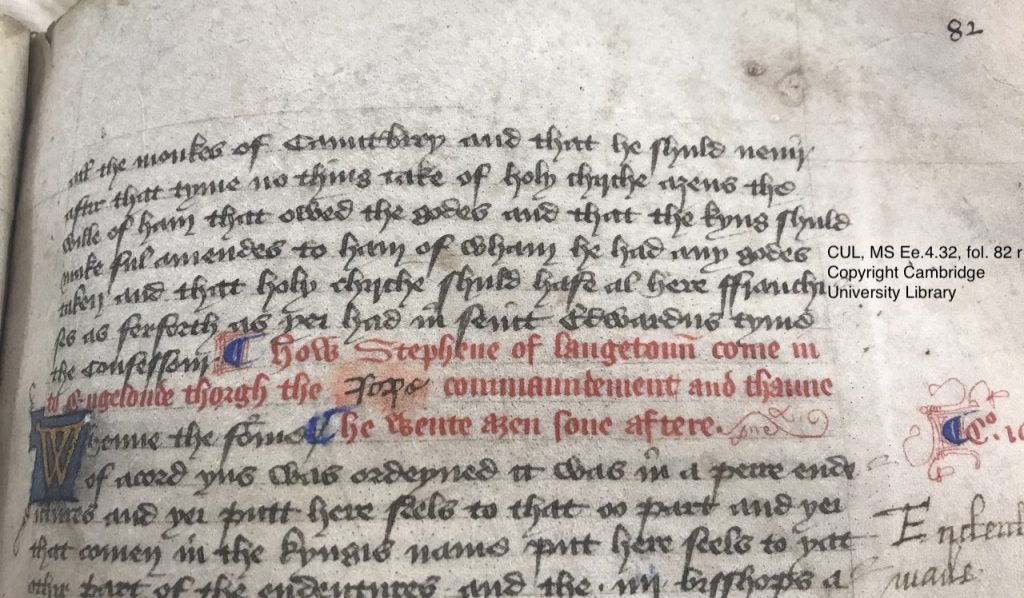 This pattern of erasure—through a careful combination of liquid (which has, in places, left smudged ink) and scraping (which has, in other places, left the membrane rougher and lighter) continues up through fol. 87r, through the end of the rubrication 'How þe clerkes þat were outlawed of Engelonde come aȝen ond how kyng John was aſſaillede', and then further on into the rubrication on fol. 88v, well into the body text of fol.90r.

This pattern is particularly intriguing because it appears that just one hand is responsible for reintroducing 'pope' into the text; the word is written quite distinctly. The lobe of the letterform 'p' extends so far backwards that it crosses the stem, creating what in several instances could be mistaken for a ligature. This, combined with the distinctive 'e': sometimes backwards, at times upside-down and elongated, at the end of each 'pope' makes for an easily distinguishable difference between this word and its surrounding text.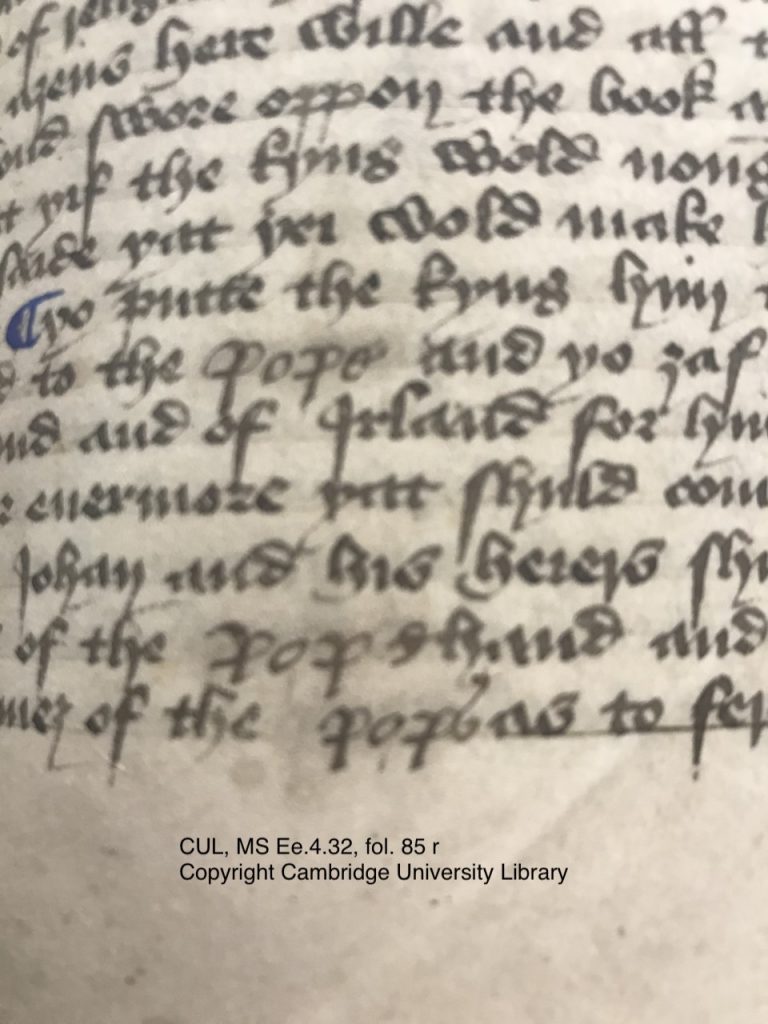 EE.4.32 was copied onto membrane. The quality of the decorations, particularly in the Brut text (which include gold-gilt ornamentation and a variety of colored inks) indicate that this manuscript was of some worth at its time of production—making any word erasures particularly apparent. Western Illuminated Manuscripts: A Catalogue of the Collection in Cambridge University Library dates MS Ee.4.32 to the 15th century, citing either half of the century as likely dates of production…leading to questions about whether this is perhaps a Reformation-era tinkering with the text. Erasures are especially apparent in those sections detailing the (mis)adventures of King John; is there a reason these headings specifically have been so methodically revised? And what might prompt another owner, reader, or otherwise handler of this manuscript to ink the word 'pope' back into its place(s)?
Questions abound…but the research continues!
Thai-Catherine Matthews, Research conducted as part of the M.Phil in English: medieval and Renaissance Literature, Faculty of English, University of Cambridge
---
Notes:
[1] Lister M. Matheson, The Prose Brut: The Development of a Middle English Chronicle (Tempe, AZ: Arizona Center for Medieval and Renaissance Studies, 1998), p.ix.
[2] Ibid, p. xx.
[3] Ibid, p. xvii.
[4] David Ruddy, 'The Brut Chronicle', University of Michigan (1996) <https://quod.lib.umich.edu/b/brut/about/>. [Accessed 2020].