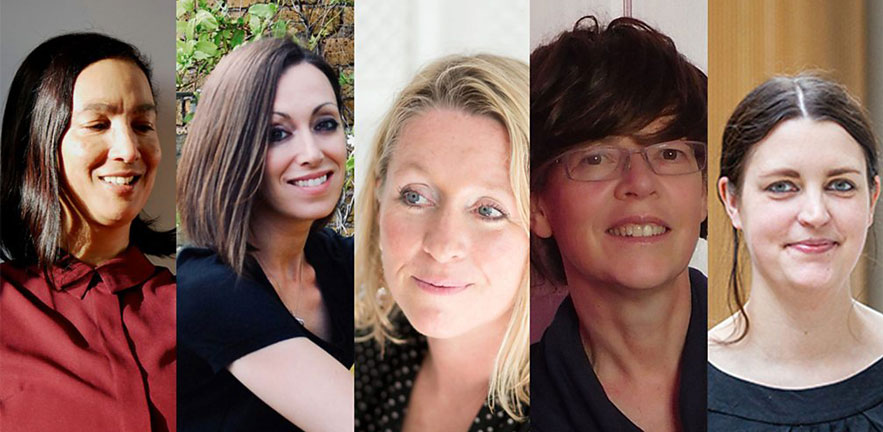 Award-winning writer Lucy Caldwell joined by former bookseller Lynda Clark, charity worker Jacqueline Crooks, and new voices Tamsin Grey and Jo Lloyd to complete shortlist of writers exploring sexual politics, intolerance, community and immigration. 
Lucy Caldwell, multi-award-winning novelist, playwright and short story writer, has been shortlisted for the BBC National Short Story Award with Cambridge University for the second time for 'The Children'. Previously shortlisted in 2012 for 'Escape Route', one of her first ever short stories, Caldwell is joined on the 2019 shortlist by a wealth of emerging talent including University of Dundee Fellow and former bookseller Lynda Clark for 'Ghillie's Mum'; charity worker Jacqueline Crooks for 'Silver Fish in the Midnight Sea'; civil servant Tamsin Grey for 'My Beautiful Millennial'; and Welsh writer Jo Lloyd for 'The Invisible'. The shortlist of five stories was announced on Friday 6 September 2019, during BBC Radio 4 Front Row.
The shortlist is:
'The Children' by Lucy Caldwell
'Ghillie's Mum' by Lynda Clark
'Silver Fish in the Midnight Sea' by Jacqueline Crooks
'My Beautiful Millennial' by Tamsin Grey
'The Invisible' by Jo Lloyd
The need for empathy and human connection are key themes this year in a rich and varied shortlist that is set in both contemporary and fantastical worlds. Loneliness, activism, intolerance and social exclusion are all explored in stories that range from the comic contemporary to the mythic with inspiration coming from Brexit, Trump, #MeToo and experiences of immigration and isolation.
Intimate and immersive, each short story shows the potent power of the form to reflect the political via the personal. From Lucy Caldwell's 'The Children', a tale about motherhood and loss told through the deft interweaving of the true story of a 19th century child custody campaigner, a modern mother's health scare and the child migrant crisis on the US/Mexican border as reported via Twitter; to Jacqueline Crook's evocative and haunting 'Silver Fish in the Midnight Sea' exploring isolation, neglect and social exclusion set against memories of Jamaica and childhood summers; to the magical, fantastical world of Lynda Clark's 'Ghillies Mum' where 'otherness' and intolerance are explored in the story of a family who are able to shape-shift into animals.
Richly varied and tonally diverse, each story reflects the importance of community and human connection in an increasingly divided world. From the otherworldly, almost mythical Welsh village of Jo Lloyd's 'The Invisible,' where a community is torn apart by one woman's stories about the 'invisible' Ingram family, while in the contemporary metropolis of Tamsin Grey's wonderfully comic 'My Beautiful Millennial', a young woman alone in London is desperate to make a connection. All five are beautifully told stories that conjure complete worlds for the reader and listener.
Now celebrating its fourteenth year, the Award is one of the most prestigious for a single short story, with the winning writer receiving £15,000, and the four further shortlisted authors £600 each. Selected from over 900 entries (an increase of 15% on 2018), this year's shortlist is the sixth all-female shortlist in the BBC National Short Story Award's history. The winner will be announced live on BBC Radio 4 Front Row on Tuesday 1 October.