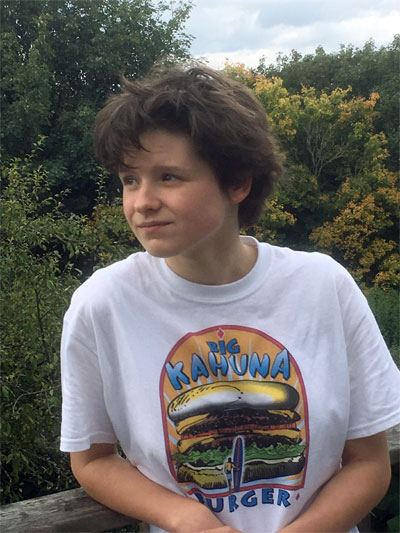 Georgie Woodhead, 16, from Sheffield has won the 2019 BBC Young Writers' Award with First Story and Cambridge University (YWA) for 'Jelly-headed', a tragi-comic story about an ill-fated night out that ends in devastating circumstances on a nightclub roof. A gripping story about friendship, moral dilemma, and the absurdity of life, it was praised by judge, writer and rapper, Testament, for its "vivid writing", "narrative voice" and the way it "captures something real about being young and the dread approach of conscience and social responsibility".
Already an award-winner, Georgie won the Foyle Young Poet Award in 2018 and in the same year was highly commended in the Cuckoo Northern Writers Award and runner-up in the young people's category of the Ledbury Poetry Competition. Citing the work of Israeli short story writer Etgar Keret as an influence, Georgie said of her shortlisting, "it feels incredible to have work recognised by such a talented panel of judges".
The news was announced live on BBC Radio 4's Front Row (Tuesday 1 October) with all the shortlisted stories available on the BBC Radio 1 website, on BBC Sounds as part of the Short Works short story podcast and in an anthology. An interview with Georgie will be available on BBC Radio 1's Life Hacks from 4–6pm on Sunday 6 October and she will receive a personalised mentoring session with an author to further hone her writing skills.
Katie Thistleton, BBC Radio 1 presenter and BBC YWA 2019, Chair of Judges, says:
"'Jelly-headed' gripped us all with its harrowing description of a tragedy, and its relatable and heart-breaking theme of friendship. It wasn't easy to forget and during the judging we kept on coming back to it."
Kiran Millwood Hargrave, author and BBC YWA 2019 Judge says:
"Our winning story has it all: a complete narrative arc with a satisfying conclusion, without feeling limited by the word count. Nothing feels compromised – we are offered a snapshot of vivid texture and tone, and the opening line stayed with me from the first moment I read it."
Comic and gripping, 'Jelly-headed' is the vividly realised story of an ordinary night out that goes tragically wrong when a storm breaks and a freak lightning strike brings devastation. A story about friendship, guilt and the absurdity of life, this funny, subversive story is ultimately about being young, searching for meaning where there is none to be found and the beginnings of social conscience.
Antonia Byatt, Chief Executive, First Story, says:
"All five shortlisted pieces for the BBC Young Writers' Award are extraordinary evidence that the future of creative writing is alive and well. We know from our work at First Story that our students have brave, witty and original voices. Writing is a powerful way for them to express themselves. All these short stories should be recommended reading and I will certainly be looking out for these writers in the future. Many congratulations to Georgie Woodhead for her arresting story; it's a testament to the brilliance of the new generation."
Georgie beat off competition from: Eleanor Clark, 16, from mid-Devon for her evocative and sophisticated 'Insula', the story of a young woman's journey from the safe, almost magical island of her childhood to the brutal, isolation of the city; Tallulah Howarth, 17, from Macclesfield for 'Another Pair of Eyes', a unique and beautifully realised piece of flash-fiction inspired by the true story of Northern scientist John Dalton; Isobel Paxton, 17, from Edinburgh for 'The Blue of Spring Violets', a brutal, rich and sensory story about kindness, kinship and humanity set in a psychiatric ward; and Rowan Taylor, 16, from Reading for 'Allotment', the beautifully told story of a daughter's changing relationship with her father and the shift from desolation to renewed love as the season's change on the allotment.
All five shortlisted writers spent the day of the award ceremony at BBC Broadcasting House where they took part in a creative writing workshop with author and judge Patrice Lawrence. They also experienced a session in a recording studio and a tour of Broadcasting House with BBC producers before attending the award ceremony where Welsh writer Jo Lloyd, was announced as the winner of the fourteenth BBC National Short Story Award with Cambridge University for her story, 'The Invisible'.
Dr Sarah Dillon, Faculty of English, Cambridge University, says:
"'Jelly-headed' is a brilliantly deserving winner – Georgie Woodhead's story demonstrates just how much emotion, plot and depth can be conveyed in the short story form. Like all the best short stories, you only spend a short time in its world, but you're haunted by it for long after. It is wonderful to support the BBC Young Writers' Award and be part of its recognition and reward of young and talented writers."
This is the fifth year of the BBC Young Writers' Award which invites 14 to 18 year olds to submit stories of up to 1000 words. The award was launched as part of the tenth
anniversary celebrations of the BBC National Short Story Award and aims to inspire and encourage the next generation of writers.
The shortlisted stories can be read and listened to online at: www.bbc.co.uk/ywa