WELSH WRITER JO LLOYD WINS THE 2019 BBC NATIONAL SHORT STORY AWARD WITH 'TIMELESS' AND 'DEEPLY TENDER' STORY INFLUENCED BY BREXIT, SOCIAL DIVISION AND FOLKLORE
Welsh writer Jo Lloyd has won the fourteenth BBC National Short Story Award with Cambridge University 2019 (NSSA) for 'The Invisible', a distinctive and compellingly original story. Inspired by the life of an 18th Century woman from Carnarvonshire called Martha who claimed to be friends with an invisible family living in an invisible mansion, Lloyd discovered her story by chance in the online Dictionary of Welsh Biography. Set in a close-knit community, the story is both timeless and universal, and resonates profoundly in an age where fear of outsiders and social division is rife.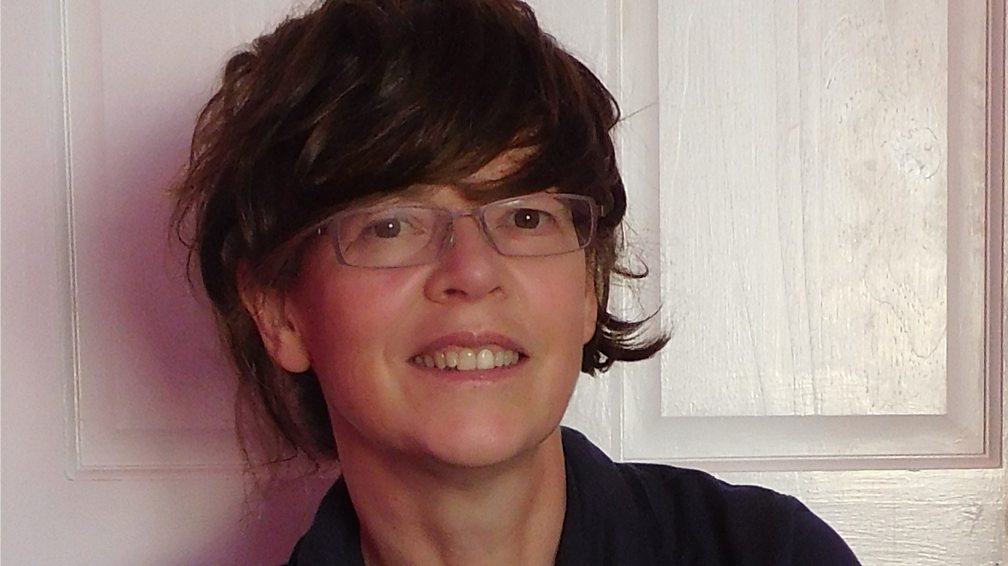 Jo Lloyd was presented with the prize of £15,000 this evening (Tuesday 1 October) by the 2019 Chair of Judges Nikki Bedi at a ceremony held at BBC Broadcasting House. The news was announced live on BBC Radio 4's Front Row, during a special programme celebrating the short story. 'The Invisible' is available to listen to on BBC Sounds.
Chair of judges, Radio 4 and BBC World Service broadcaster Nikki Bedi commented:
"'The Invisible' was the unanimous winner and we all found many and different things to love and admire in it. The story moves us emotionally and intellectually, it works on many levels structurally, and linguistically it's deft and accomplished. Unusually, it's written in the first-person plural and there's brilliance and beauty in its ability to conjure the landscape and slip in time. The story is unplaceable but deeply resonant. 'The Invisible's' themes touch on wealth and class, what can be seen and not seen, and what's precious and what should be valued in the world. You will read, and re-read it, and be richer every time."
It was further praised by fellow judge and 2017 BBC NSSA winner Cynan Jones who said: "Our winner paints a timelessly relevant picture of how we obsess for access to worlds we cannot have. It is also a story about story itself; our need for them, to allow us to see beyond ourselves, and how the stories we buy into can bring us together or push us apart."
BBC NSSA 2019 Judge Richard Beard added:
"Our winner is a finely-tuned allegory lyrically rooted in the physical world that succeeds in reaching between the seen and unseen to raise profound questions about class, the countryside, myth, time. Much bigger than it looks, it rebounds and reflects its own ideas in deep layers that both entertain and intrigue the reader, leaving much to contemplate and return to."
Jo Lloyd grew up in South Wales and has recently returned to live there. Her stories have appeared in The Best British Short Stories 2012, Zoetrope: All-Story, Ploughshares, Southern Review, and her short story, 'The Earth, Thy Great Exchequer, Ready Lies' featured in The O. Henry Prize Stories 2018, widely regarded as the most prestigious awards for short fiction in the US. Lloyd has also previously won an Asham Award, the Willesden Herald International Short Story Prize, and a McGinnis-Ritchie Award.
She said of her shortlisting, "It's thrilling. I follow the Award every year and listen to all the shortlisted stories, and I'm always hugely impressed by the quality and range. It's an honour and a delight to be part of it this year."
The need for empathy and human connection were key themes this year in a rich and varied shortlist with many, like 'The Invisible', referencing social and political intolerance. The story of a poor community whose intrigue turns to fear as the 'rich, invisible Ingram family' continue to elude them, 'The Invisible' is a powerful and thought-provoking meditation on the way we think about the wealthy, the solidity that comes from the natural world and the 'seeing' and 'unseeing' that enables inequality and class division. Lloyd cited Brexit, Trump and people being driven from their homes as influences at the time of writing.
Lloyd beat stiff competition from twice shortlisted multi-award-winning writer and playwright Lucy Caldwell with 'The Children'; former Waterstones bookseller Lynda Clark with 'Ghillie's Mum'; charity worker Jacqueline Crooks for 'Silver Fish in the Midnight Sea' and civil servant Tamsin Grey for 'My Beautiful Millennial'. The shortlisted writers will each receive £600.
The five shortlisted stories are available to listen to on BBC Sounds. They are also published in an anthology BBC National Short Story Award 2019, introduced by Chair of Judges Nikki Bedi and published by Comma Press.
Dr Midge Gillies, Academic Director, Creative Writing, University of Cambridge Institute of Continuing Education, Cambridge University, says: "Once again, we have been spoiled by these five writers, and the judges have had an impossible task of choosing the winner. Congratulations to Jo Lloyd. 'The Invisible' is a beautiful evocation of place and time. It confronts our suspicion of the outsider and of missing out; it tackles jealousy and fear within a small community in an uncanny description of landscape and its occupants. Again, it shows us the power of the short story to tackle our deepest concerns in a stunningly imaginative form."
This year's judging panel was chaired by Radio 4 and BBC World Service broadcaster Nikki Bedi and included novelist and writer of narrative non-fiction Richard Beard, short story writer, novelist and Man Booker Prize shortlisted Daisy Johnson, 2017 BBC NSSA winner Cynan Jones and returning judge Di Speirs, Books Editor at BBC Radio.
2019 marks the fourteenth year of the BBC National Short Story Award and the second year of the BBC Student Critics' Award with First Story and Cambridge University, which saw 16-18 year olds from around the UK reading, discussing and critiquing the five shortlisted NSSA stories in advance of the winner's announcement.
Antonia Byatt, Chief Executive, First Story, says: "Listening to other people's stories is the deepest way of engaging with the world beyond our own horizons; reading introduces us to people who live a different experience. The Student Critics Award is a vital way for young people to explore what makes writing powerful and how there can be dignity in everyone's voice, wherever they come from and whoever they are. This year's winning story 'The Invisible' opens a striking window on a hidden world and it's fantastic it can be even more widely shared through podcast."
It is also the fifth year of the BBC Young Writers' Award with First Story and Cambridge University, which was created to inspire and encourage the next generation of short story writers. A cross-network collaboration between BBC Radio 4 and BBC Radio 1, the award is open to 14-18 year olds and was won this year by 16-year-old Georgie Woodhead from Sheffield for her story 'Jelly-headed'. It can be read and heard at www.bbc.co.uk/ywa
The BBC Short Story Awards with First Story and Cambridge University coincide with BBC Year of Books (autumn 2019 – Autumn 2020), a celebration of literature through BBC Arts, with new programming across BBC TV, radio and online, as well as a festival in partnership with libraries and reading groups around the UK.